Top 10 Breweries in California, USA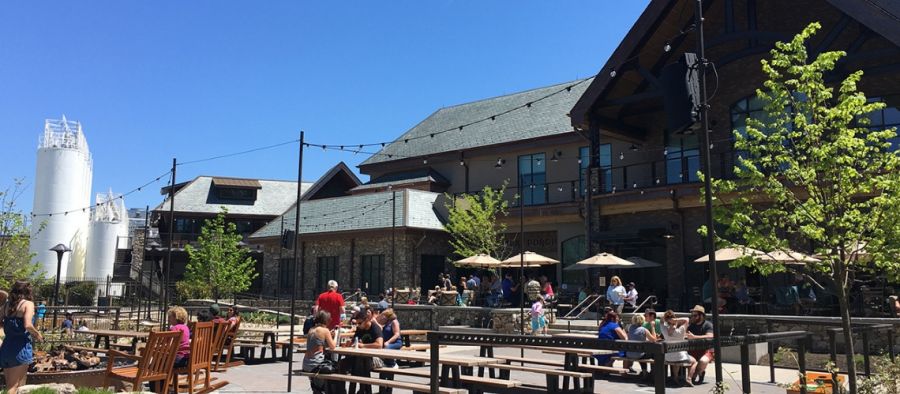 Here is the List of Leading Handcrafted Beer Breweries of California USA, Offering its own Artisanal Beers, Tours & Tastings.
California offers a widespread range of breweries to visit and taste different beers - while learning about the California beers scene. From San Francisco to San Diego, here are the best breweries to visit for a look at how the best craft beers are made.
Anchor Brewing
Anchor Brewing is an America's first and oldest craft brewery. Today, their beers are handcrafted from an all-malt mash in their traditional copper brewhouse. The process combines the time-honoured art of classical craft brewing with carefully applied, modern methods. The company has wide varietals of beers including Anchor steam beer, Anchor Porter, Liberty Ale, and Go West! IPA, Anchor Beer Cooler, Meyer Lemon Lager and many more. Anchor Brewing offers a guided public tour every day up to ten people per reservation and can enjoy beers and food at anchor public taps before or after the brewery tour.
@anchorbrewing
Stone Brewing
Stone Brewing was established in 1996 and has grown from small microbrewery to one of the largest craft breweries in the United States. They have been listed on Inc. 500|5000 Fastest Growing Private Companies and have been called the "All-time Top Brewery on Planet Earth" by Beer Advocate magazine twice. The company has unique, big-character beers featuring bold flavors that defy traditional style guidelines and expectations. Each of their beers is an expression of what they stand for their company and value as brewers. Stone Brewing offers tour route, where their expert guide will lead their customers through the heart of their brewing facility and packaging hall in Escondido.
@stonebrewing
Ballast Point
Ballast Point is alive to add their own touch and tinkered to test and tasted as they discovered making beer was more art than science. They respect and honour tradition relishing the opportunity to make it further and allowed them to reinterpret brewing. The brewery has a flagship series which are their signature beers including, Sculpin, Manta Ray, and Victory at Sea pinnacles of their styles and premium award winners. At Ballast point tasting room, they organize events including unique dinner, painting class or yoga.
@ballastpointbrewing
Sierra Nevada
Sierra Nevada is inspired by the nearby Sierra Nevada Mountains; their beers are designed to be bold, wild and unwavering. As one of the craft brewing pioneers, their experts taste every lot of beer scheduled to go into the market and evaluate the flavours to ensure that every bottle meets their standard of quality. The company offers a variety of different styles highlighting the range of the full-flavoured beers. The Sierra Nevada has designed several tours whose duration and content vary, they highly recommend making online reservations in advance.
@sierranevada
Crooked Lane
Crooked Lane Brewing is a family oriented company and believes in sharing and supporting one another. It is a local company and plans to tap nearby restaurants to complement their beer with the cuisine at the tavern. They have designed a space that offers variety to suit their customer's mood and relax outside the cover patio, meeting up with friends in a community beer garden. The brewery serves beer on the tap with a wide range of varietals. Crooked Lane organizes events and produces beers that represent their region all the more.
@crookedlanebrewing
Heretic Brewing Company
Heretic Brewing Company brings the heretic beers than the ordinary once. They are crazy about beer and passionate about making it. Their taproom is open every day to the week till 9 pm. Heretic Brewing Company has a large varietal of beers including Agony, Alternating Current, Bitter Truth, Black Maria, Blood of Jupiter, Cement Hill and many more.
@hereticbrew
Cellarmaker Brewing Co.
Cellarmaker Brewing Co. is a San Francisco based brewery, producing small batches of experimental beers. They keep on producing different flavors of beer to make their customer's taste buds intrigued constantly. At their taste rooms, one can find their beers available in 50z tasters, half pints, pints, as well as 1 liter and 640z growlers to go. Cellarmaker Brewing has an ABC( Alcohol Beverage Control) approval to fill Non-Cellarmaker growlers with Cellarmaker beer provided that all other names, logos, and/or addresses of another brewery are covered.
@cellarmakerbrewing
Sante Adairius Rustic Ales
Sante Adairius Rustic Ales is a small brewery located in Santa Cruz County. The brewery was founded on respect for quality and authenticity, focusing attention on producing well-concentrated beers with an eye towards simplicity and character. The company invites their customer's to experience their beers at a new venue and in a new way. The tasting room is open from Monday to Sunday between 12-9. Their approach to beer making is one of whimsy, highly inspired by the Belgian tradition, but also in harmony with brewers all over the world.
@rusticales
Green Flash
Green Flash was established in 2002, a team of talented like-minded people crafting beer enthusiastically. They embrace the Green Flash culture and brand vision with passion and zeal. Their award-winning beers are on draft and ina bottle at restaurants and retail outlets. Every person of their team contributes to the success their beers and they rely on them to continue to bring new, fresh approach to brewing beer. Join Green Flash in their 4,000 sq. ft. tasting room and beer garden and enjoy up to 30 beers on their state of the art taps featuring their favorite front line beers.
@greenflashbeer
Karl Strauss
Since 2009 Karl Strauss has won over 109 medals and counting, and in 2016 at Great American Beer Festival, they received the prestigious honor of being named as mid-sized brewing company of the year. Their dedication to quality, passion for innovation, and unyielding commitment to brewing world-class beer are driving force behind everything they do. Karl Strauss offers brewery tour and one of their certified beer services will guide guests into their on-site facility, walking through various stages of the brewing process.
@karlstraussbeer
Other Relevant Blogs You Might Wish to Read:
Top 10 Wineries in New York State
Top 10 Oregon Wineries & Vineyards You Must Visit