Top 10 Wineries in New York State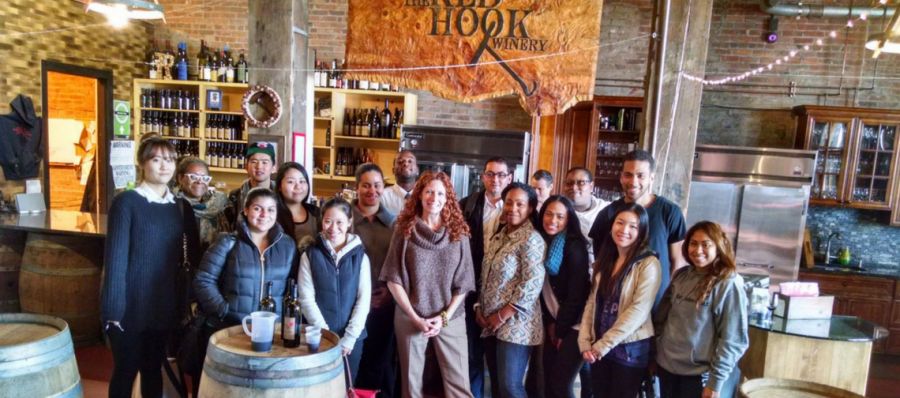 New York State offers up many wineries from it's various regions, some more well- known than others.
From Seneca Lake to Finger Lakes, The Hamptons, Lake Erie, Hudson River and Cayuga Lake, here's a round-up of the best wineries you can visit on your next wine tour around the state of New York.
Brooklyn Winery
Brooklyn Winery is located in the heart of Williamsburg. The winemaker of Brooklyn Winery produces a premium small-batch wines combining the quality of tradition with the freedom of innovation. They welcome their consumers to learn about how their wines are produced and then settle them into the wine bar, serving their artisanal wines with their seasonal food menu. The company has a direct contract with grape growers, some of whom only farm grapes, which helps them to showcase the best varietals that each region has to offer. Brooklyn Winery also functions as a private event venue with the beautiful winery as a backdrop.
City Winery New York
City Winery deliver's the highest end combined culinary and cultural experience to their customers who are passionate in sharing wine, music and culinary arts. The winery provides a unique facility, combining a fully functioning winery with intimate concerts, food, and wine classes. They source grapes from some of the finest vineyards in the world and aim to give fans of wine, food, and culture the chance to touch feel all the aspects of the winemaking process. City Winery believes in their company's mantra that you should "Indulge the Senses" – that the sound, smells, tastes, and view should combine to create a unique and special customer experience.
The Red Hook Winery
The Red Hook Winery was established in 2008 and aims to highlight the best vineyard sites in New York. They work with the grape farmers who give agricultural definition to New York's inchoate winegrowing country. Their winemakers produce wines that reflect the climate, geology, and viticulture that makes New York unlike any other growing region in the world. The company offers the option of barrel tasting, where visitors can taste their wines directly from the barrels and provides barrel tasting and tour for their wine lover consumers.
Addictive Boutique Winery
Addictive Boutique Winery was founded in 2013 and located at the Jackson Heights, Queens. They are specializing in small production wines from around the world. Currently, they have over 1000 references; from local wineries in New York, California, Oregon and Washington. The winery also offers international wines from Spain, Italy, Germany, Georgia, Argentina, Chile, Greece, Portugal and South African and many more. Addictive Boutique Winery is the only boutique wine shop and offers free wine tastings every Friday and Saturday.
Rooftop Reds
Rooftop Reds was established in 2015 as the world's first commercially viable urban rooftop vineyard in New York City. They have commissioned 42 of the art planters to fill their 14,800 square foot rooftop at the Brooklyn Navy Yard. The winery produces six wines made from grapes sourced from New York State's Finger Lake region. Rooftop Reds also hosts a series of events in New York's most unique wine venue, including rooftop vineyard happy hours, pop-up dining experiences, wines and educational viticulture tours, among many others.
Anthony Road Wine Company
Anthony Road Wine Company is located near to Seneca Lake lends itself to a favorable microclimate for growing grapes. Handpicking is done for the Vignoles and Pinot Noir, while others are harvested through a machine. Their 50% of the crop is sold to the outside wineries and the rest is used for the companies wine production. Anthony Road Wine tasting room, gift shop, and gallery are located at their vineyard at Anthony Road, Penn Yan, New York. They have their own retail shop and have the selection of wine accessories, locally made foods, clothing, as well as a variety of wine-related books by local authors.
Dr. Konstantin Frank
Dr. Konstantin Frank is a family run winery since 1962, and continuing legacy to produce the highest quality wines from the highest quality grapes. They believe that quality of wine starts from vineyards with careful attention to the nurturing of vine vineyards. Over the years' experience, they come to known those northern European grape varieties are most suited for their region and made their passion to champion those varieties at that winery. Dr. Konstantin Frank also offers the service of the tasting room and make sure that their clients are poured only the finest wines as their portfolio with the reserve and limited release wines.
Brotherhood Winery
Brotherhood Winery was established in 1839 and is one of the oldest American wineries. Experience the enigmatic atmosphere of Brotherhood Winery by taking a sedate stroll through their vast network of underground cellars. The team of Brotherhood Winery will reveal the secrets of their mysterious oak barrels, vaults and keep assumed to their consumers with tall tales of folly and tragedy. Brotherhood Winery offers a tasting flight, to taste the exciting flavors and scents of the wine at their beautiful showroom.
Lamoreaux Landing
Lamoreaux Landing wine cellars control over 100 acres of planted vineyards on the eastern hillsides of Seneca Lake. The winery believes in sound environmental management practices, which minimize the use of synthetic fungicides, pesticides, fertilizers, fuel, energy, and waste. Each of their vineyards has been expertly chosen to heighten the strength of both the vines and the site. The long sunny days and cool nights further help to the acute aromatic and crisp acidity found in their wines.
Fox Run Vineyards
Fox Run Vineyards is a family-owned winery and making estate wines since 1989. The vineyards of Fox Run benefit a number of factors in location, soil composition, and effective and innovative management. They hope that by keeping their vineyard balanced and healthy it will allow them to produce a flavorful and balanced wine. Fox Run Wine Club is the best way to get exclusive access to Fox Run Wines. The company is proud to offer delicious, refreshing, and award-winning Finger Lakes wines to their customers.