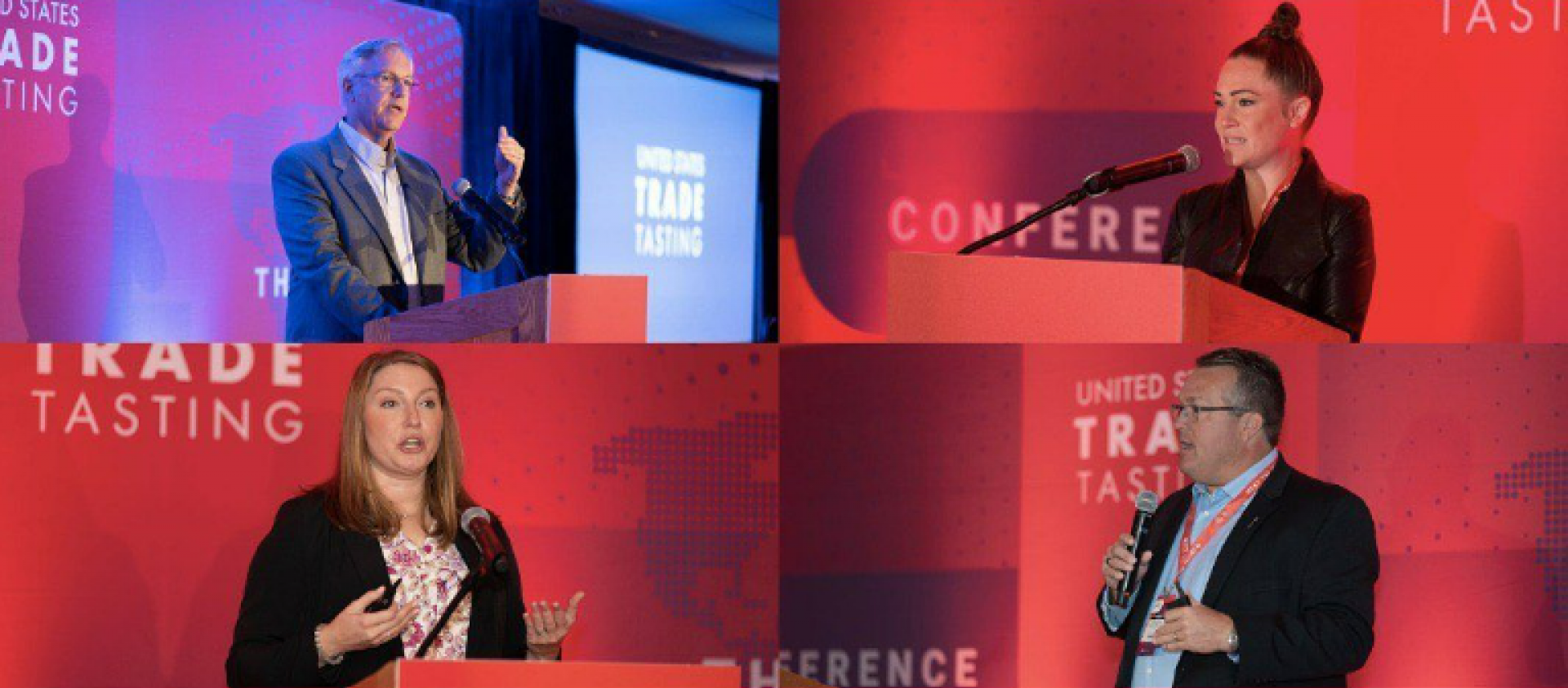 Agenda for USA Trade Tasting 2023 happening in Chicago on October 17-18
15/09/2023
The theme of the 7th Edition of USA Trade Tasting 2023 is #ConnectingChicago and our biggest aim is 'Making Chicago America's Top Drinks Business Meeting Destination.
USA Trade Tasting aims to boost Chicago and its suburbs, Midwestern United States' local and small suppliers along with giving international exhibitors a taste of the city and generating business by getting all three tiers of the industry together under one roof.
USATT is an international show organized by Beverage Trade Network for the last 6 years, and in 2023 it will go deeper into Chicago's drinks scene, integrating the three tiers of the industry into one event with a fundamental focus on Chicago.
Located in Chicago's West Loop, Morgan Manufacturing, the venue for USATT 2023, is best known for its soaring ceilings, exposed concrete, glass, and steel constituting its industrial elegance. Morgan Manufacturing offers over 32,000 square feet of world-class space. Housed in a renovated historic building and designed with a focus on modularity, it's an exceptional choice for live events and conferences, making it a perfect space for USATT 2023.
GET FREE PASSES TO THE EXPO FLOOR HERE.
Who is Exhibiting?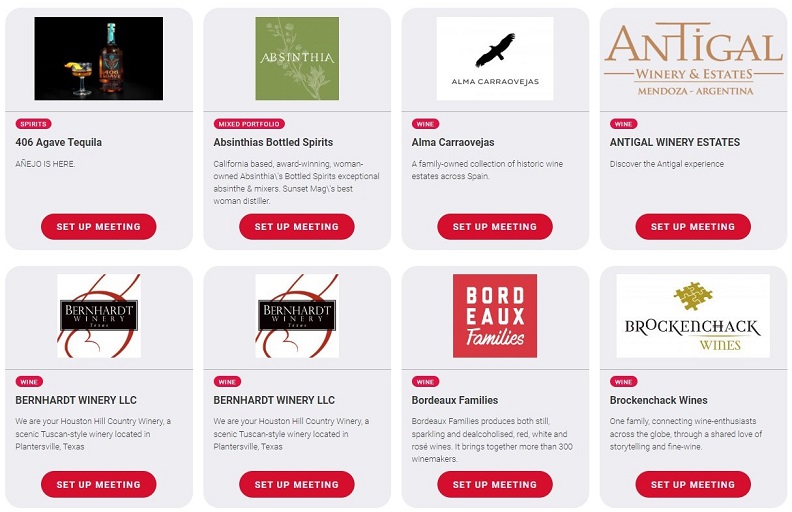 2023 Conference Agenda and Outline
The two-day event in October 2023 will focus on TED-style actionable sessions that will include 26 speakers. There will be 8 keynote sessions of 30 minutes each, and 4 panels of 60 minutes each. The conference will shine the spotlight on importers, distributors, retailers and restaurateurs.
Top USA and Chicago professionals and buyers will be helping you improve your import, distribution, retail and restaurant business. Q&A will follow right after, where you will be able to ask questions.
Conferences will start at 11am on both days and the expo floor will open at 1pm on both days. Attendees of the conference will also be able to have lunch and access to the VIP after event party.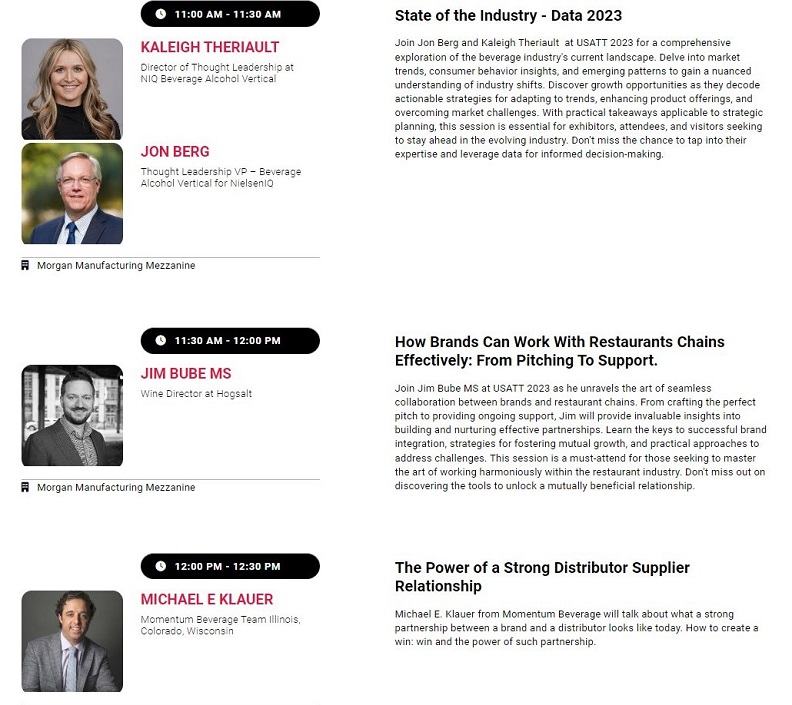 View Full Conference Schedule Here.
For the last 6 years, the drinks industry has turned to Beverage Trade Netork's USA Trade Tasting event and conference to discover the latest trends and network with the drinks community. Our signature two-day event for the beverage industry brings together thought leaders, trailblazers, and the next generation of brand founders to help beverage industry professionals thrive.
End it with the VIP networking party
Next to business, BTN is best known for the cocktail nights at the end of all our events. These are informal platforms to network with the industry and catch up on trends, patterns, rising personalities and all of it with a drink in hand!
This is the perfect opportunity to convert those connections that were made in the two days of business. With lip-smacking cocktails in the heart of the city and lots of conversations to catch up on, it is this party that is the perfect finisher. Feel free to dress up because our photographer will be there for the paparazzi moments. If you've made it to this party, you've probably made it to the creme de la creme of Chicago's and suburbs drinks industry.
Pricing
Expo Floor Pass (1pm to 7pm, October 17 and 18, 2023)
FREE USD
This ticket allows access to the Expo Floor Only. Access 1pm to 7pm on October 17-18.
In-Person Conference Sessions (11am to 7pm, October 17 and 18, 2023)
299 USD
This ticket allows access to the Expo Floor + Conference 11am-7pm on October 17-18. Please note the conference starts at 11am.
Recorded Conference Sessions
99 USD
For those who cannot join us due to travel or budget, you can still be part of the event by getting this pass. This ticket gives you access to conference talks (recorded presentations and PPT) for one year.
Restaurant Buyers Masterclass With Sommeliers Choice Awards Winners (5pm to 6pm, October 17, 2023)
30 USD
Join the distinguished Jim Bube MS in an exclusive "Restaurant Buyers Masterclass" at USATT 2023, featuring accomplished Sommeliers Choice Awards winners. This exceptional session delves into the art of curating wine selections that captivate and elevate the dining experience. Explore the secrets of wine pairings, sourcing top-notch selections, and mastering the intricacies of wine lists that resonate with discerning patrons. Whether you're a restaurant owner, sommelier, or wine enthusiast, this masterclass is your gateway to refining your wine program and delighting guests. Don't miss out on the opportunity to learn from the best in the industry and unlock the keys to vinous excellence.
Bartenders and Bar Managers Masterclass With Bartender Spirits Awards Winners (5pm to 6pm, October 18, 2023)
30 USD
Join Abraham Vucekovich, Beverage Director of Meadowlark Hospitality where he will conduct this Masterclass for Bartenders and Bar Managers. The masterclass will showcase 6 top winners of the 2023 Bartender Spirits Awards and will focus his talk on how bartenders can increase sales in their bars, and what does a good cocktail program looks like. what metrics to look for in your beverage programs, how to suggest a drink to your guests and more.
Cocktail Networking (7pm to 8pm, October 17, 2023)
49 USD
This ticket allows access to the Cocktail after event networking event from 7pm-8pm. Food and Drinks Included. Only 100 Tickets are available.
Date and Location
October 17-18, 2023
Morgan MFG, 401 N Morgan St Suite #204A, Chicago, IL 60642, United States.
See you soon!
Get ready for a truly exceptional experience at USATT 2024 on May 22-23, 2024! The USATT 2024 event promises to be the paramount gathering for the beverage industry, offering a plethora of exciting mini-events designed to enrich your industry knowledge, tantalize your taste buds, and provide unique networking opportunities for brand growth and visibility.
2024 USA Trade Tasting exhibitor registrations are now open. Learn more about pricing and why exhibit here.