Top 10 Wineries in Napa Valley, California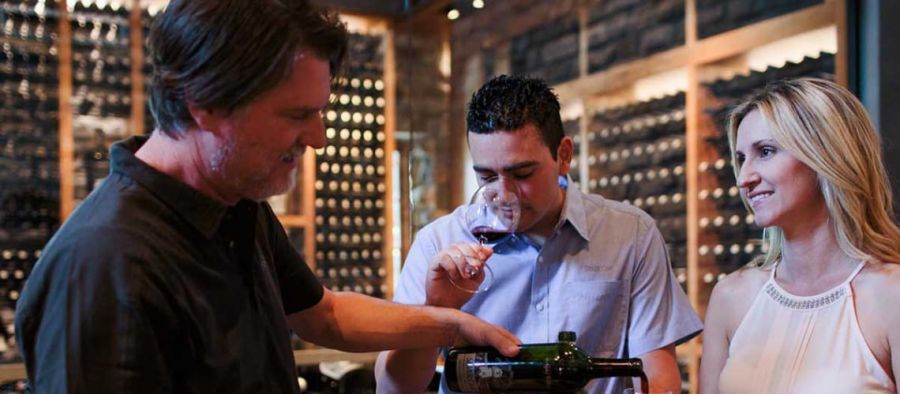 Napa Valley – Most Visited Region of California, Awarding Beautiful Scenery, Exceptional Wineries and Internationally Acclaimed Wines.
With more than 400 wineries, alluring tours providing wine education and tasting events, Napa Valley of California attracts more than 5 million visitors every year. If you are planning to visit Napa to explore its enticing wineries, we have probed a list of few exceptional wineries that offers excellent wines, rich history and an entertaining and informative adventure.
Monticello Vineyards
Monticello Vineyards came to Napa Valley in 1969 to produce world-class wines and is a family owned and managed winery. The company was having a small winery producing approx. 15,000 cases of wines annually. Today they have farmed five vineyards, ranch vineyard and Knollwood vineyard in the Oak Knoll district planted to Cabernet Franc, Merlot, Chardonnay, Pinot Noir, and Syrah. Monticello Vineyards is dedicated to making wines that enrich life and express the individuality of their Napa Valley estate vineyards.
Trinchero Napa Valley
Trinchero Napa Valley started its journey in 1948 with a single vineyard producing Zinfandel wines. As the time past, they deepen their family roots in Napa Valley, with a collection of estate vineyards spanning 200 acres of area in St. Helena, Mt. Veedar, Atlas Peak and Rutherford. The company believes that their wines are made from only the finest blogs on their sustainably farmed vineyards in Napa Valley; every bottle captures their family's rich heritage in the unequaled region. Trinchero Napa Valley has a horizontal tasting of four single vineyards Cabernet Sauvignon wines; it is a kind of introduction to the appellations of Napa Valley.
Silver Oak
Silver Oak was founded in the late 1970s, producing only 1,100 cases of their inaugural vintage. Today they are farming more than 400 acres of vines in Napa Valley and Alexander Valley with a leading edge approach towards precision viticulture. With more than 40 years of experience, a company is producing exceptional, food-friendly Cabernets that are extensively aged by drinkable upon release. Silver Oak Alexander Valley and Napa Valley Cabernet wines are as distinctive as they are delicious. The company complements winery owned fruit with grapes from top independent growers throughout the Napa Valley and Alexander Valley to make Cabernet of the finest quality.
Piña Napa Valley
Piña Napa Valley is one of the Napa Valley's secret wineries located above the Silverado trail east of Rutherford. They have five vineyards designated for Cabernet Sauvignons from their family farmed vineyards in Napa Valley. All of their vineyard sites produce distinctive Cabernet Sauvignons which reflects its respective climate and soil profiles. The Piña Napa Valley wine club is designed for Cabernet Sauvignon lovers, each release is filled with the single vineyard designate, 100% Cabernet Sauvignon wines.
Artesa Estate Vineyards and Winery
Artesa Estate Vineyards and Winery is located in the Napa Valley over 25 years ago, with a sea facing, rocky soil, and a favorable coastal climate. The company's objective is to make Chardonnays and Pinot Noirs that unmistakably bear the stamp of Carneros. The philosophy of winemaking at Artesa is to always be true to the place where the grapes are grown, believing that the best wines are always made in vineyards, not in a winery. At Artesa Estate they pursue their passion for crafting distinctive wines and sharing them with joy.
Falcor Napa Valley
Falcor Napa Valley is located in Southern Napa Valley and in 1999 Napa Valley Chardonnay becomes one of the nation's top scoring Chardonnays. The company started to produce eight different varietals by 2004, focusing on high quality, small lot productions and currently producing around 15 diverse, internationally award-winning varietals. Falcor sources some of the finest and most prized fruit from prime Napa and surrounding vineyards for their limited wine production wines. Their aim is to make wines that are balanced and multi-dimensional.
Tedeschi Family Winery
Tedeschi Family Winery started their journey in the 1960s by planting the first grapes on their Calistoga property. Today, they are producing handcrafted wines in the tradition of family's winemaking heritage. The annual production of a company is about 2000 cases annually, with ten award-winning varietals including several best of class wines. Their wines include Cabernet Sauvignon from dry farmed Calistoga Estate, Merlot, Pinot Noir, Petite Sirah, Chardonnay, Viognier, and a dry rose. Tedeschi Family Winery offers private estate tour and tasting and will be savoring at least five or six different wines while strolling through the estate.
The Hess Collection
The Hess Collection is celebrating its 30th vintage with the release of 2012 vintages from Mount Veedar. Their Napa Valley vineyards benefit from cooling influence of the San Pablo Bay in the Southern part of Napa Valley making it ideal for growing Chardonnay and growing season in the eastern part of Napa Valley is ideal for Sauvignon Blanc and red varietals. The team of their winemaker picks an array of wines that showcase the diversity and exceptional quality the Hess Collection has to offer.
Keever Vineyards
Keever Vineyards is a family owned and operated winery, located in the western hills south of Yountville, in the Napa Valley. Their first vintage was in 2002 producing 46 cases of wines and now producing 2000 cases annually. The company believes that wine is more than just a beverage and hope to be a part of the celebration for any occasion.
Black Stallion Estate Winery
Black Stallion Estate Winery is located in Silverado Trail, Napa Valley, California. Winemaker of the winery blends the best of the world traditions with modern technology to create rich and balanced wines. The winery offers a variety of experiences including bar tastings, tours, and private tastings. Black Stallion goal is to make site-specific wines by carefully blending small lots from Napa Valley's premier growing region. They are committed to crafting exquisite, ultra-premium wines that reflect the elegance and complexity of the Napa Valley.
Check out our other relevant blogs you wish to read:
Top 10 Wineries in New York State