R.S. Lipman Company: Oldest Alcohol Distributor in Tennessee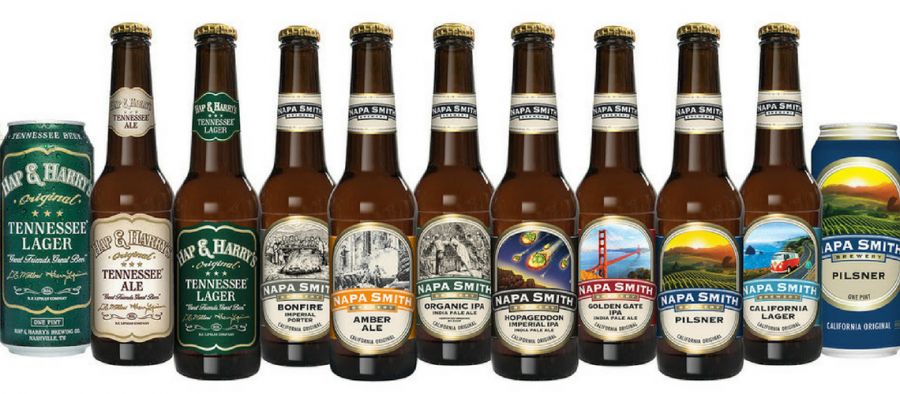 R.S. Lipman Company – A Nashville Based International Alcohol Distributor.
R.S. Lipman Company is the state's first distributor of wine, beers, spirits and mixer based in Nashville. Since 2011, the Company began creating and acquiring brands to build a diverse beverage alcohol portfolio. In 1994, the Company was formed as Lipman's distribution channel for beer, bottled water, mixers, crystal and cigars. Together, the Lipman companies service restaurant and retail accounts, and function as an educational resource for both.
R.S. Lipman Brewing Company
R.S. Lipman Brewing Company is the parent company for Hap & Harry's Brewery located in Nashville, TN, and Napa Smith Brewery, situated on the banks of the Napa River, in Vallejo, CA.
Hap & Harry's Tennessee Beer
Hap & Harry's was established in 2011 by Lipman as an ode to the family – Grandfather Harry Lipman and his friend Hap Motlow, the legendary Jack Daniel family from Lynchburg, Tennessee. Brewed in Nashville, TN in their 27,000 sq. ft. facility, Hap & Harry's beer styles include Tennessee Lager and Tennessee Ale. Hap & Harry's beers are currently distributed only in Tennessee.
Napa Smith Brewery Beer
Located in California's Bay Area, Napa Smith Brewery has the unique experience of being the only production craft brewery in the city. Napa Smith is a family-owned and operated brewery that upholds the classic beer style that gives American beer its start.
R.S. Lipman Wine Brands
R.S. Lipman Wine Portfolio Includes:
1. Eros Spinozzi Winery
Eros Spinozzi Selections – an award-winning portfolio of Italian family wineries.
Eros Spinozzi's wine selections are front and center in the most prestigious restaurants and fine wine shops all over the country. With R.S. Lipman Company, Eros's selections are in constant development to ensure that Italy's most well-known wine regions are represented through their network of small or medium-sized family owned and operated wineries. These family wineries have entrusted the Spinozzi name to represent the essence and heritage of the Italian world of wine for the last 40 years. Eros Spinozzi Portfolio of wines includes:
• Recchia
• Reva
• San Lorenzo
• Simone Capecci
• Losi
• Sachetto
• Gilia
• Colle Nero
• Dogliotti
• La Chiara
2. Napa Smith Winery
Napa Smith Winery traditionally produces vibrant colors and flavors combined with the structure associated with the high mineral content of the soils found in this area. The grapes are hand -picked at the optimal state of maturity, showing a perfect balance of classic Cabernet fruit flavors and rich acidity which came together allowing our winemaker to create a memorable wine. The grapes are sourced from three high quality vineyards located in the heart of the Napa Valley; Red Hen, Skellenger and Oak Knoll.
3. Lonely Cow Wine
Lonely Cow Sauvignon Blanc jumps from the glass with aromas of white peach and lime, the mouth-watering palate is a juicy mix of candied pineapple and tangerine flavors followed by a crisp but lingering finish of wet stone and white pepper accents.
4. Saturday Night Wines
A Saturday Night brings the tradition of smooth, handcrafted wine blends from California. A Saturday Night Wines has a handcraft varietal which includes below wines:
1. Saturday Night Red – Red Wine Blend, Italy
The Saturday night red wine is Deep ruby in colour. The grapes for Saturday Night red are hand-picked in the beginning of October. This wine has a smell of intense bouquet of fruit, jam and Mediterranean spices
2. Saturday Night White – Pinot Grigio, Italy
The Saturday Night white wine has a straw yellow in colour having greenish reflections. The grapes for Saturday Night wines are 100% Pinot Grigio which are hand-picked in the mid of August.
5. Hidden Jewel Wines – Unoaked Chardonnay
The true characteristics of Unoaked Chardonnay is bursting with juicy tropical fruit and honeysuckle aromas followed by luscious green apple and baked pear flavors with a hint of stone fruit.
To know more about their wine brands visit R.S. Lipman Company.
R.S. Lipman Spirits Brands:
R.S. Lipman Spirits brands includes:-
1. Old Hickory Bourbon Whiskey
Deeply rooted in American tradition, Old Hickory Great American Bourbon Whiskey delivers a refined taste and unique characteristic reminiscent of Andrew Jackson. Old Hickory Bourbon Whiskey includes:
• Old Hickory Blended Bourbon
• Old Hickory Straight Bourbon
2. El Diamante Del Cielo Tequila
After the hand-selected piña reaches the distillery, the agave is steamed to release its nectar, fermented and distilled in small state of the art pot stills. Unlike most tequilas that are distilled only twice as required by the Mexican government, El Diamante del Cielo is distilled three times to enhance the purity and heighten the agave flavor. This tequila has below brands:
• Cielo Añejo
• Cielo Reposado
• Cielo Silver
3. Heroes Vodka
Heroes Vodka was founded in 2009 by Travis McVey, a U.S. Marine Corps Veteran who proudly served as a Presidential Honor Guard from 1989-1992. Heroes Vodka was first bottled on Veteran's Day, 11.11.11, a date that occurs only once in a century and epitomizes the rarity of this event. The mission of Heroes Vodka is to deliver exceptional taste and superior value to consumers while honoring Veterans and other American service organizations through charitable contributions.
4. Country Club Spirits
Established in 1957, Country Club is a tried and true classic. Harry Lipman purchased Country Club vodka and bourbon from Double Springs Distillery, a company that was using a new technique for vodka called charcoal filtering. Country club vodka is available in 80, 90 & 100 proof, variety of sizes and Country club gin is available in 80 & 90 proof.
To know more about their spirits brands visit R.S. Lipman Company.
Red Eye Bloody Mary Mix
Premium Red Eye Bloody Mary Mixes are made with the freshest tomatoes and combined with a conglomeration of spices that result in a burst of unique flavors. In the United States, it is oftentimes referred to as a "Hair of the dog'' cocktail, and thus the origin of the name "Red Eye. The two critical ingredients for Red Eye Bloody Mary Mix are vodka and tomato juice. Red Eye Bloody Mary Mix brand portfolio includes:
• Red Eye Original
• Red Eye Outlaw
• Red Eye Horseradish
• Red Eye Habanero
• Red Eye Tavern Blend