LGI Wines – The French Wine Creators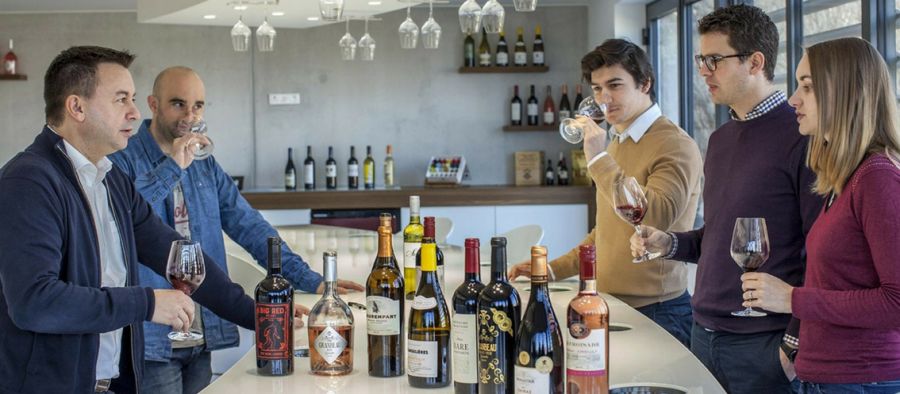 LGI Wines – Aims in Producing Fresh, Clean, Well Packaged and Modern Wines.
Created in 1999 by Alain Grignon, Mark Lynton and Thierry Leduc, LGI Wines is a company specialized in winemaking in the south of France. Located in Carcassonne, in the heart of the Languedoc region, today it is led by the important winemaker Xavier Roger. LGI Wines expertise lies in sourcing wines and creating unique packaging. The company craft French wines using the modern vinification techniques.
LGI Wines Story
LGI wines was Alain Grignon's vision of the international export markets in relation to the Languedoc wine region. Alain wanted to provide added value to the most flexible wines from France, offering an excellent quality/price ratio, whether tailor-made or concept brands.
In 2013, Xavier Roger and Cédric Duquenoy took over the command, Xavier becoming Managing Director and Cédric Sales Director. The knowledge of Xavier Roger and Cedric Duquenoy have led them to take over the helm from Alain and to keep crafting unique French wines with the LGI Wines team.
Almost 20 years later, they have explored the whole science of tailoring wines and crafting concepts. Their great flexibility and agility have made them the leading French tailor-made wine creator, delivering great wines throughout the world.
An Extraordinary Terroir
Located in the heart of Languedoc, LGI wines work in one of the world's largest wine producing regions. The location has an amazing diversity of climates, terroirs and wine partners offering a whole range of local to international grape varieties, from traditional to modern winemaking techniques.
The broad array of local and international grape varieties, climates and terroirs allows them to craft almost any style of wine; from fresh, crisp, spicy, full-bodied, oaky, to elegant and mineral wines, while always seeking wine quality and taste consistency, ensuring that the final products are perfectly suited to their customers' tastes. The company's core values in such partnerships rely on sharing and understanding each other's' concerns, whether it is about climate change, winemaking experience or everyday advice. LGI Wines has been the key to securing wine volume, quality consistency and reaching international quality standards such as IFS and BRC by being close to their producers.
Wine Sourcing In France
The mission of LGI Wines is to offer a large quality range of wines from Languedoc and Gascony, with a packaging adapted to each market. The company's wines stand up to the New World competition as an alternative to traditional French Wines. LGI Wines sources wines that deliver quality, price and presentation, to both their clients and to their customers.
1) Languedoc-Roussillon
The Languedoc production area accounts for about one-third of all French wines made. With its oldest vineyards planted by the Romans, in the foothills of the Pyrenees, it has a vast heritage of vine growing and wine-making traditions. Its diversity of terroirs and climates means almost any grape variety can be grown there, although the tendency to extreme weathers favors ancient varietals.
2) Gascony
The Gascony production area, located in the Midi-Pyrenees region, is famous for its verdant countryside interspersed with small picturesque villages. Like the Languedoc, it has been a home to viticulture since the Roman times. Here, the climate is more continental thanks to the influence of the Atlantic Ocean.
3) Côtes Du Rhône
LGI also sources wines from the Côtes-du-Rhone. This area, located along the river Rhône, has been a hub of wine culture since ancient times and it remains just as popular today.
It is the home of Dauvergne ET Ranvier, two wine traders with whom LGI works very closely. The two associates' source wines from the best vineyards in the appellation area to produce juicy, fruit-forward wines that really capture the essence of the region.
LGI Wines Products
LGI Wines in the south-western city of Carcassonne invents catchy names, designs trendy labels and produces wines targeted at regional tastes just like competitors in Australia, New Zealand, California and Latin America.
Their wines may have names like Tortoise Creek, labels with pleasing pictures and a clear description of the grape varieties just like their new world competitors.
1) Brand Portfolio
LGI Wines can craft the purest French traditions with an outstanding, classically French packaging; or a concept wine that fits the international varietal standards.
For almost 20 years, LGI Wines Sales team has been exploring the science of tailoring wines and crafting concepts throughout the world.
2) Brand Creation
Based on a combination of traditional French know-how and our international experience in winemaking, packaging, sales, and logistics, the company has developed unique skills in the process of creating a bespoke brand. Dedicated to Export markets, LGI Wines are experts in logistics, trade, winemaking and partnership from the vineyards to the bottle, shipping the large volume of bottles every year.
3) Tradition
LGI Wines promotes local estates as well as local producers, who take care through each and every step of the grape growing and winemaking process.
LGI Wines offer a portfolio of Domaines & Châteaux coming from most of the Languedoc AOP's (Minervois, Corbières, Limoux, Grès de Montpellier, Languedoc).
To know more visit LGI Wines.