Growing Korean Beverage Category In The U.S. With Carol Pak
30/06/2022
Carol Pak, Founder & CEO of Makku – America's first craft Makgeolli brand, talks about her work experience and the challenges of building a Korean beverage brand.
Carol Pak is the Founder & CEO at Sool, producer of America's first craft Makgeolli brand Makku. Makku is a delicious rice-based beer and is known as the oldest alcoholic beverage in Korea. Before Makku, Carol was a part of an elite team in the M&A division of ZX Ventures, part of AB InBev, where she worked on launching brands in China. Between her BA at Michigan and MBA at Columbia Business School, Carol played key roles in non-profit, government, and technology organizations. In this interview, Carol talks about the challenges of introducing an uncommon beverage to a western audience and her journey of growing the Korean beverage category in the U.S.
1. Can you tell us a little about yourself? What inspired you to create Sool?
I was born and raised in Flushing, NY, a very immigrant-heavy community, and Korean culture was a big part of my upbringing. In my 20s, I held various jobs across non-profit, government, and tech and eventually landed in consumer product goods (CPG). In 2016, I was working for ZX Ventures (a division of Anheuser Busch Inbev, the largest beer company in the world) in innovation and new product development, where part of my job was to study the alcohol market, analyze trends, and brainstorm new concepts. During this time, I noticed an explosion of new CPG entrants, Sir Kensington ketchup and Spindrift sparkling water were starting to dominate the market, and I started wondering what other categories could be disrupted. Working at ZX Ventures, my mind naturally shifted to the beer category, and the stars aligned when I took a trip to Korea and discovered craft makgeolli. I felt a calling for me to start my own company.
2. As the Founder and CEO of Sool, what does your day look like? And what is the best part of your job?
From a bird's eye view, my job is to strategize for the long-term of the company, keep our finances in check, and keep our team and investors happy. Until last year, we were a two full-time employee team (including myself), so a big chunk of each day was dedicated to sales, marketing, finance, and operations. This year, I am still overseeing all those departments but since we were able to make a few hires, I am spending more time on strategy (analyzing the current position, optimizing our resources, mitigating risk), hiring and building company culture, and strengthening our infrastructure for production and ops.
Since we are so early-stage, any day can change the course of the company, whether good or bad. Every day I send out dozens of emails and am waiting for dozens of responses. So the anticipation of what could be - good or bad - gets me out of bed as soon as my eyes open. I always told myself when I was younger that I would never be boring or ordinary, and truly, I can say that none of my days with Sool are boring or ordinary. Along with this, the amazing people I met along this journey, is the best part of my job.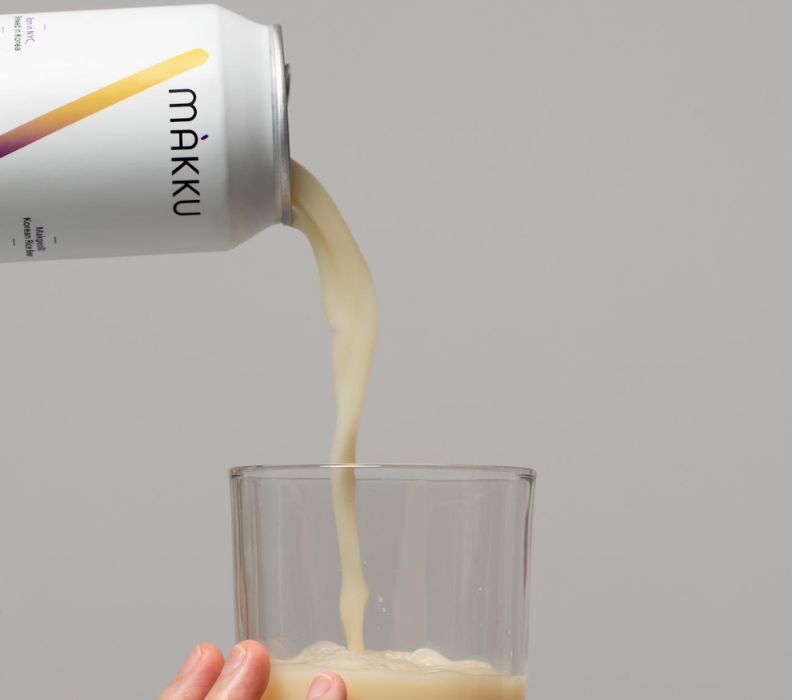 3. Tell us about your products — Makku & Soku. What's unique about the style and flavors of these beverages?
Both Makku and Soku are innovative takes on very traditional Korean beverages and are not available anywhere else in the world. I see our drinks as fitting into the newly emerging RTD category.
Makku — Double Gold winner, New York International Beer Competition, 2021; Inspired by makgeolli, traditional Korean alcohol, Makku is a lightly sparkling brew made from rice. Fermented from rice and coarsely filtered, Makku has a hazy and smooth body, with light bubbles and a hint of sweetness. Makku products are produced in South Korea and are gluten-free, all-natural, and vegan, with 6% ABV.
Soku — Double Gold winner, San Francisco World Spirits Competition, 2022; A sparkling ready-to-drink cocktail made with Korea's best-selling liquor, Soju. Made with real juice, Soku has a burst of flavor and bubbles and packs a punch at 6% abv. Ingredients include soju, fruit juice, and sparkling water. Soku products are produced in Saratoga Springs, NY, and are gluten-free, all-natural, and vegan.
4. What was the first thing you did to launch and sell your product? How did you decide on the pricing?
Makgeolli inspired me to start our company, so Makku was the first product to launch. I thought about our competitive set, and which beverages we would be sharing occasions with, and it was the sessionable, canned craft beers, hard ciders, hard seltzers, and hard kombuchas. I went to various markets to study the price points of these types of products and had a target price for the consumer in mind. From there, I worked backward to make sure the margins would work for our company, as well as our distributors, retailers, and restaurants.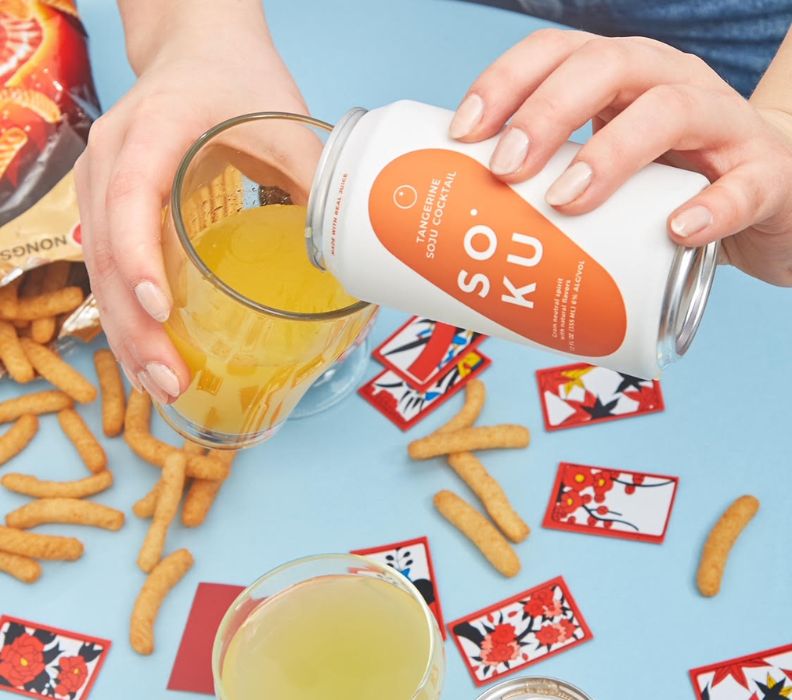 5. How do you divide your time to oversee production, marketing, and sales? Which sector needs the most time and investment?
At the earliest stage of the company, I spent most of my time on production and marketing because we needed to get that right before scaling distribution. Lately, it's been scaling distribution and working with our distributor partners. Overall, it's very important to grow sales, marketing, and production all at the same time. So I assess all three departments regularly and make sure to balance.
6. In the past few months, what are the changes you've made that have had the biggest positive result on the production and sales forefront?
Thankfully, production has been stable for us early on since we work with a large makgeolli brewery in Korea with excellent quality control. On the sales side, we hired our first two full-time sales employees this year, and it has been great working with seasoned professionals from the industry.
[[relatedPurchasesItems-34]]
7. According to you, what makes a beverage brand stand out? What are the important things to keep in mind when marketing an uncommon, regional beverage to a new audience?
The beverage market has changed significantly in the last 7 years as a result of consumers' shifting buying habits and preferences. As consumers seek out products that have authenticity, premiumization, diversity in flavors, diversity in representation, better-for-you products, and convenience, there has been an explosion of new types of beverages hoping to fill these demands.
As a small business with limited resources, it is challenging to compete with larger companies that are continually innovating and partnering with the top distributors and retailers. But we, fortunately, have such a unique product and story, and we are moving in our own lane. Although it is extremely difficult to build a new category alone, and we need to spend a lot of resources on education and awareness, we are fortunate to have an authentic product that tastes great, and as a Korean American founder representing a Korean product, we have a true and unique story behind our brand that many consumers, especially Asian Americans, resonate with. In terms of marketing our two brands, education about the product and how and when to drink our products is very important.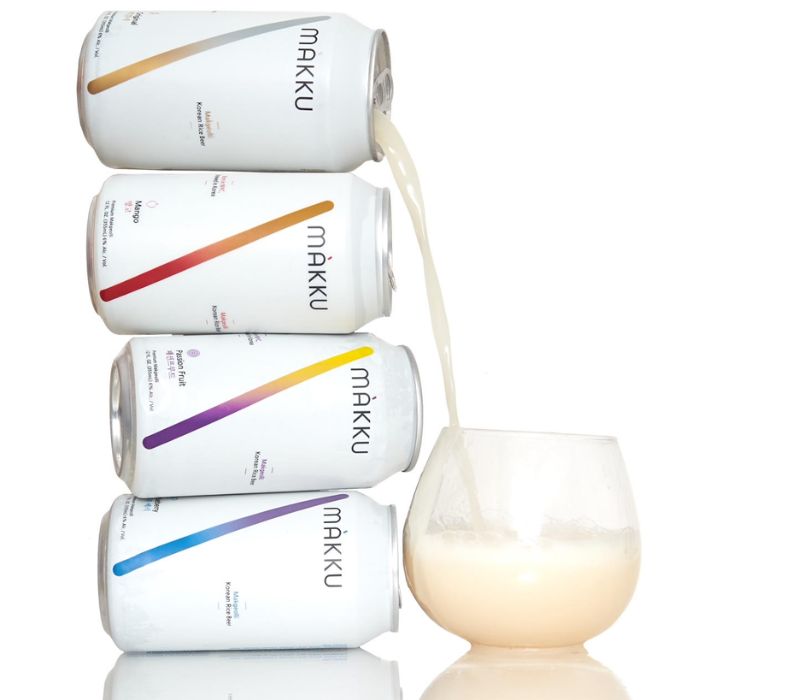 8. What was the most challenging thing you had to face while building your company? How did you overcome it?
The most challenging part of building my company was fundraising. It's not easy to fundraise, to begin with, but especially in alcohol - a 'vice' industry with fewer interested investors, and in the competitive environment we're in, it's hard to find capital. Thankfully we were able to find our first investors who were based in Korea, understood our product, and resonated with our mission. From there it was up to us to use our resources wisely and hit certain metrics to keep on fundraising. Seeing how challenging fundraising is, I am using my resources more sparingly and focusing on increasing margins to hit profitability sooner.
9. How would you describe Sool's success so far? How do you plan on growing in the future?
Against all odds, COVID, limited funding, a new category, and exploding freight costs, we have really grown our brand organically, through a loyal and enthusiastic fan base. We are now distributing in 22 States, and our growth is steady. We will continue to expand in the US and are considering new product offerings - new flavors, dryer styles, premium styles, and different ranges of alcohol. In the long term, we expect to expand globally, with our eyes set on Asia.
10. What advice would you like to give to young entrepreneurs who are looking to launch a beverage brand?
You have to be so passionate about your product(s) and hard-working to survive in this industry. Brands take years to build and I see too many entrepreneurs trying to get in this business, looking for a quick flip. A great liquid and great branding are not enough. I would recommend talking to as many people in the industry, from founders and producers to distributors, retailers, and restaurants, and gauge if your beverage brand would have a place in the market. And then, it will be about finding the resources and right partners to bring your vision to life.
Interviewed by Aanchal Sharma, Beverage Trade Network