Glenlofty Estate Wines – Vineyards at the Pyrenees in Western Victoria, Australia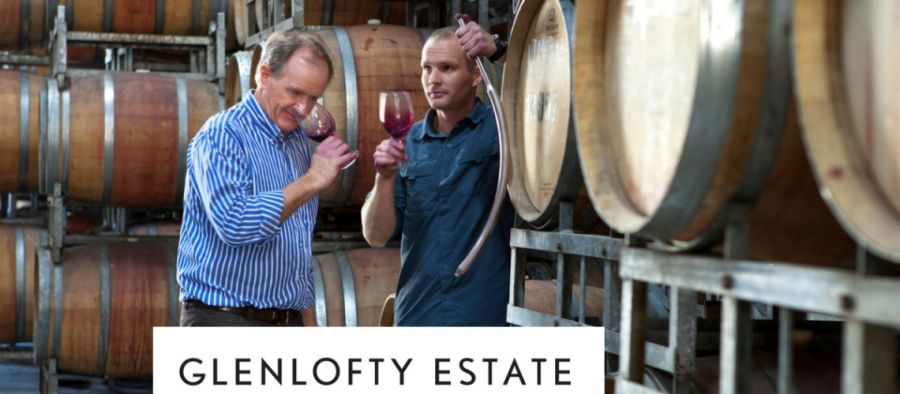 Glenlofty wines express the soul of Victoria's cool-climate Pyrenees foothills terroir.
Glenlofty single-vineyard wines all express the soul of Victoria's cool-climate Pyrenees foothills terroir, more often compared with France's northern Rhone than with Australia's warmer Barossa or Hunter Valleys. Only since 2013 has Glenlofty's premium fruit, crafted with premium French oak, been bottled under its own label. So the Glenlofty brand is decidedly a dark horse, winning friends and gold medals right and left. Glen Lofty's vineyards have been carefully nurtured since 1995 in the cool-climate foothills of Victoria's Pyrenees. Formerly blended into premium wines produced by Penfolds, Seppelts, Rosemount and Brown Bros, Glen Lofty's remarkable fruit has been bottled under its own Glenlofty Wines label only since 2013, with the difficult 2011 year being its first own vintage. Early industry applause has been rapid – from industry peers in the Pyrenees and further afield, from the Barossa, McLaren Vale, Heathcote, Yarra Valley and the Hunter. Not because Glen Lofty's wines are similar to these well-known appellations - they're clearly different. But because top Australian winemakers and vignerons know a super-premium cool-climate wine when it sings from their glass. Judges in blind tastings from Melbourne to Hong Kong to London agree. The first Glenlofty release has garlanded itself with gold medals from all these. Eight gold medals so far, seven silver medals and nine bronzes. One prominent wine judge says (off the record, of course) that the Glenlofty 2011 Single-Vineyard Shiraz is clearly the outstanding Victorian Shiraz of that vintage. Glenlofty vineyard has made contributions over the years to many trophy-winning wines, including the famous Penfolds Yattarna Chardonnay, Seppelts Shiraz and the celebrated Marsanne Roussanne blends of the early 2000s. GlenLofty's Decameron vineyard, 5 km south of Glenlofty, was planted in 1996, with most of its harvests channelled into Brown Bros ultra-premium wines, like their famous Patricia Shiraz.
Glenlofty Vineyards
Victoria's Pyrenees form a special appellation in the foothills of Australia's Great Dividing Range. An increasingly well-known cool-climate range of vineyards poised between the old gold-mining towns of Avoca and Elmhurst. In 1836, European exploration started to map the advantages of the Pyrenees region of western Victoria, and viticulture was introduced soon after. By 1890, there were vineyards at Avoca, Landsborough, Moonambel, and Amphitheatre but these were all wiped out by the looming phylloxera plague, and not replanted for half a century.
In 1963, planting recommenced with a joint venture between the Australian Nathan & Wyeth group and the French Remy Martin. With many years of premium wines, still and sparkling, to its credit, this venture has now matured into the well-known Blue Pyrenees. Many other well-known wineries have followed, including France's Goelet family with Taltarni, the Jones family at Dalwhinnie, the Barrys at Mount Avoca, the Bazzanis at Warrenmang, the Robbs at Sally's Paddock and the family Summerfield. Glenlofty was established in 1995 (moving from corporate to family ownership in 2010) and has been recently followed (next door to Glenlofty) at its Domaine Tournon by renowned Rhone market leader Maison M. Chapoutier. Reportedly, Michel Chapoutier exclaimed "Greatness is possible" when he analyzed the terroirs of the Pyrenees. Glenlofty shares this view and is totally committed to it as a team.
Pyrenees premium red wine reputations have been won across the world, and not only with Shiraz, where the Pyrenees duality of richness and elegance wins frequent comparisons with the outstanding wines of the northern Rhone, like Chapoutier's famous Hermitages and even the fabled Cote-Rotie. Pyrenees Shiraz is very different from Barossa and even Heathcote wines.
Geology and soils
The ancient soils of the Victorian Pyrenees were formed during the Palaeozoic period – between 245 and 544 million years ago. After the "Cambrian explosion" of invertebrates, vertebrates, bony fish and plants to the sudden disappearance of 90% of all living species, and after 400 million years of slow geological decay, Glen Lofty's soils are predominantly formed from none granitic rocks and sediments, ranging from ancient river beds of loose fluvial gravel or sand and silt to hills of red textured soils of sandstone and siltstone.
Climate
Victoria's Pyrenees enables cool-climate winemaking because its inland location leads to low midsummer relative humidity and large daily temperature ranges in Spring and early Summer. GlenLofty's vineyards show a range of microclimates, which mitigate against the risk of frost and allow extended ripening hours before vintage.
GlenLofty Brands
Glenlofty Single-Vineyard Pyrenees 2011 Shiraz Viognier. RRP $28
Colour: bright ruby red. Nose: fragrant black pepper and black truffle aromatics. Palate: rich dark fruits, medium body, bright, peppery long-finishing minerality. 14.0% ABV
Glenlofty Single-Vineyard Pyrenees 2011 Nebbiolo. RRP $28
Colour: old-brick red with characteristic Nebbiolo orange hues. Nose: flowers, red cherries and chocolate with toffee notes. Palate: succulent, medium body, savoury flavours, and smooth tannins. 14.4% ABV.
Glenlofty Single-Vineyard Pyrenees 2011 Cabernet Sauvignon. RRP $26
Colour: deep ruby red. Nose: cassis, black olive, hints of fresh herbs. Palate: blackcurrant fruit, fine-grain tannins, a wine of structure and length. 13.8% ABV
Glenlofty Single-Vineyard Pyrenees 2012 Roussanne Marsanne. RRP $28
19% Roussanne, 21% Marsanne – the reverse of the usual balance, simply reflecting 2012 fruit qualities.
Colour: straw yellow, slight hints of green. Nose: fresh pear and rich exotic spices. Palate: fresh pear, guava, and honeysuckle, good structure, faint minerality. 14.0% ABV.