Andis Wines: Leading Wine Producer of Amador County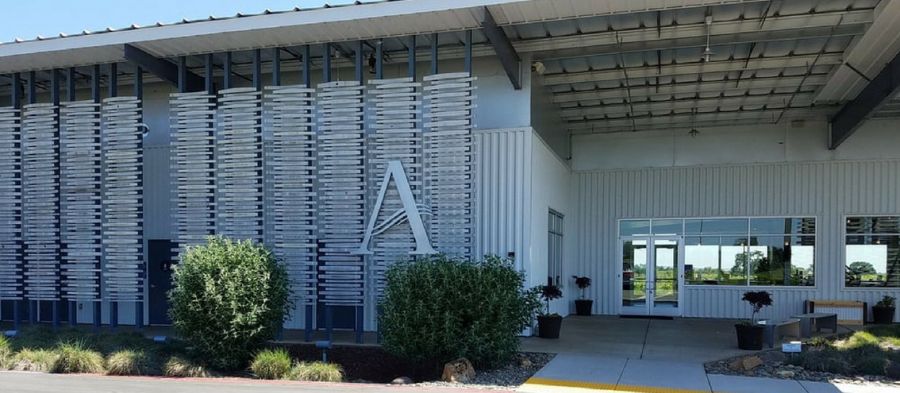 Andis Wines - A modern winery that brings a fresh approach to Amador County's historic winemaking region.
Opened in November 2010, Andis Wines is an Amador County winery with a philosophy that blends the traditional and the contemporary. Andis Wines is a 22,000 square foot state of the art winemaking facility designed under two tenets: 1) Design a winery that can make great wine, and 2) Make it pretty. The 25-acre vineyard situated in the heart of the Shenandoah Valley, with rolling hills and 360-degree views, allowed a design that blends in with its surroundings.
Features of Andis Winery
From a production perspective, below are some of the outstanding features of Andis winery:
1. Fermentation Room: A Fermentation Room that can be both heated and cooled. This allows them to control over the fermentation environment in reaction to the seasons and needs of the process.
2. Crush Pad: A Crush Pad that allows rapid processing of fruit from field to tank as well as immediate access to both storage and fermentation areas. The design of the crush pad allows for easy delivery and immediate access to processing.
3. Barrel Room: A Barrel Room that uses evaporative cooling (swamp coolers) instead of air conditioning. The Air Condition barrel room allows saving energy and it also creates the optimal environment for making wines of character.
4. Tasting Room: A tasting Room features large windows on three sides overlooking the surrounding vineyards. The Hospitality area is just under 4,000 square feet including private offices, tasting areas, and large public restrooms.
Andis Wines
Andis Wines is best known for its Sauvignon Blanc, and its sparkling wine is rich and creamy. Andis Wines is proud of its Cabernet Franc, Barbera, and Painted Fields (a blend), as well as the Zinfandel and Syrah for which this region is well known. Andis Wines has a variety of wines from wineries across the country. Below is the list of Wines:
1. Red Wines
• 2011 Syrah Dessert
2011 Syrah Dessert has aromas of chocolate, red rose petals and strawberry tart that introduce a complex and pleasing palate; juicy with just the right amount of sweet.
• 2015 Cabernet Franc
Cabernet Franc has a characteristic of red plum, dried herbs, and smoky black pepper that creates a beautiful wine to pair with red meats and pizza.
• 2013 Zinfandel
2013 Zinfandel has a full of berry and spice aromas. This wine is full-bodied, dry, and grippingly tannic in texture, offering ripe blackberry and raspberry flavors that match its big structure. Gutsy and concentrated, it's made from estate-grown fruit.
• 2013 Old Vine Zinfandel
2013 Old Vine Zinfandel is high in oak and high in ripeness with adjuncts of dark chocolate and touch of bacon yet a wine of steady and surprisingly deep, blackberry fruit, this emphatically rich effort earns good marks for its continuity and insistent varietal focus. It is a weighty wine, to be sure, but it is not at all clumsy and it is a tasty reminder that well-made Zinfandel can, in fact, be big, balanced and explicitly fruity all at once.
• 2015 Barbera
2015 Barbera has an elegant in texture and concentrated in flavor, this medium-bodied wine has a fresh blackberry and blueberry aromas paired with ripe fruit flavors and an easygoing texture without a lot of tannins. Black pepper and cardamom whiffs add some complexity.
• 2015 Painted Fields Red Blend
2015 Painted Fields Red Blend has a taste of sweet baked plum and raspberry. This wine has a smooth-textured and is a well-balanced wine.
• 2013 Petite Sirah
2013 Petite Sirah is robust in flavor, appropriately laced with firm tannins and begs for a dry-aged Tbone to pair with. It has a deep color, moderately spicy blackberry aromas, and a firm mouthfeel. Blackberry and subtle blueberry flavors push through on the finish.
• Schioppettino
Schioppettino is a beautiful acidity and soft tannin structure compliments the bright red fruit, black cherry, and raspberry flavors. Medium bodied with a touch of smokiness.
• 2014 Zinfandel
2014 Zinfandel has a robust component of smoky aromas and flavors give a large personality to this concentrated, ripe and extremely full-bodied wine. It practically spills over with juicy blackberry and boysenberry flavors and has a full but sleek mouthfeel backed by mild tannins.
2. White Wines
• 2008 Muscat Blanc Dessert
Muscat's wonderfully fresh aromas are complemented with a complexity and richness that only appear after years of gentle barrel aging. Showcasing those classically fresh Muscat aromas and complimented with flavors of honey, brown sugar, and white flowers.
• 2017 Sauvignon Blanc
2017 Sauvignon Blanc is chilled to the low 40's to keep them fresh and stable and fill the cellar with beautiful aromas. This wine has an aromatics of lemon zest and fresh-cut pear lead to crisp flavors of grapefruit and a hint of peaches.
• 2016 Semillon
2016 Semillon is a light bodied wine. Earthy, chalky aromas and dry, savory flavours take the lead in this engaging, while any fruitiness is quite subtle.
• 2017 Rosè
2017 Rosè has a symphony of watermelon and pink grapefruit usher in flavors of fresh peaches and strawberries.
• Orange Wine
Orange wine is made with Viognier grapes and was aged nearly 12 months in neutral oak barrels. The wine showcases a gorgeous amber color with aromas of wild prairie flowers and perfume. It smells sweet but is dry on the palate with flavors of vintage orange candy and mandarin.
• Acacia Semillon
After fermenting in the barrel, this Sémillon is aged in Acacia barrels for an additional 8 months. The resulting wine displays medium body, a delightfully smooth texture, and notes of citrus, pineapple, and honey.