Highlights From Day 1 of the 2019 USA Trade Tasting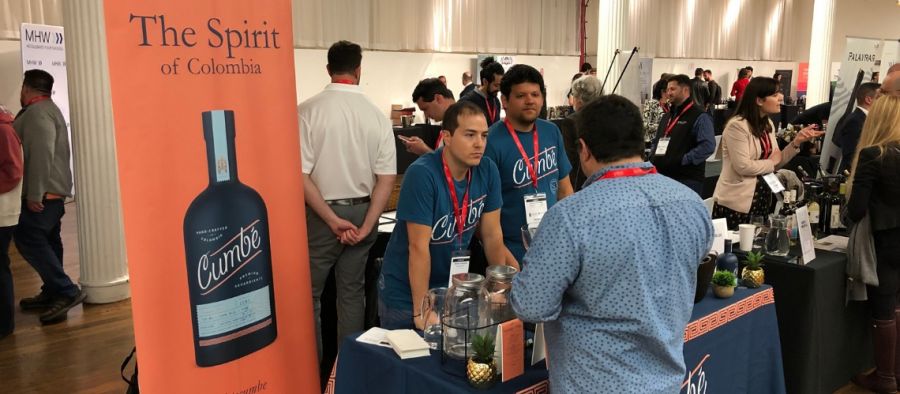 Day 1 included several insightful sessions followed by the grand trade tasting. Here is the glimpse.
The fourth annual USA Trade Tasting (USATT) event kicked off on May 13, 2019, at the Metropolitan Pavilion in New York City. The two-day event includes an exhibition floor with 100+ tasting tables and exhibitors from over 20 countries; the Alcohol Beverage Importers & Distributors (ABID) Conference dedicated to small and medium-sized wine, beer and spirits importers and distributors; the Future Sommelier Session; and a showcase of the winners of the recent USA Wine Ratings, USA Spirits Ratings, and USA Beer Ratings events.
Day 1 started with a morning keynote address by Larry Lieberman: "Growing Your Distribution Business: Core Principles That Will Get You There." Lieberman, CEO of Lieber Fine Wines & Spirits in New York, outlined some of the key factors that wine brands should keep in mind when expanding to the U.S. market. First and most importantly, says Lieberman, wine brands in search of distribution need to be able to show a potential distributor that they can deliver a positive return on investment.
During the morning session, luxury wine brand specialist Eric Guerra of Reserve Tastings Wine Co. explained how any new wine brand can think and act like a luxury wine brand. Based on his own prior experience, says Guerra, luxury is a function of consumer perception, so brands need to be constantly reinforcing those perceptions at every opportunity. For example, by emphasizing factors such as scarcity and exclusivity they can justify a higher price point in the marketplace.
One new feature this year at the USATT was "The Future Sommelier Session," moderated by Master Sommelier Michael Meagher; featuring panel members Sharyn Kervyn, Wine Director at The Capital Grille, and Erik Segelbaum, Founder and Principal at SOMLYAY LLC. The panelists debated the changing dimensions of the sommelier role over the past two decades, and why the sommelier role appears ready for yet another period of change, thanks to factors such as the popularity of social media and the rise of the millennial wine drinker. What will not change, they say, is the focus on hospitality and service that is at the core of the sommelier role today.
Throughout the day, the Grand Trade Tasting on the main floor of the Metropolitan Pavilion generated tremendous excitement, with buyers and sellers coming together to discuss possible distribution opportunities in the U.S. marketplace. Over 100 tasting booths included winemakers and craft spirits distillers from all over the world. Whether you were looking to find a new wine from Tuscany or a new premium mezcal from Mexico, it was possible to find it on the trade tasting floor. In addition, the Grand Trade Tasting featured many innovative products that are available only on a limited basis, but that has the potential to disrupt the U.S. on- or off-premise trade once they gain broader distribution.
"In past years, the USA Trade Tasting event has marked the debut of many new innovative products in the U.S. marketplace, and we're really excited about some of the exhibitors this year," said Sid Patel, CEO, and Founder of Beverage Trade Network, the organizers of the event.
The afternoon session of the USATT event featured a trio of high-profile speakers: Robert Bradshaw, President & COO of Cape Classics; Bob Trimble, Owner of La Lumiere Selections; and Ben Salisbury, President of Salisbury Creative Group. In his presentation, Bradshaw talked about the role of authenticity in building a brand, highlighting the work that he did in making Jam Jar a new type of premium sweet wine for consumers who were new to the wine category. Later, Trimble outlined the key factors that go into finding the right distributor in the U.S. marketplace, and how wine brands can help these distributors sell more of their product.
Day 1 of the USATT ended with Ben Salisbury exploring new thinking and modern approaches to selling. In his "Modern Selling" for distributors and importers presentation, Salisbury discussed the core myths and misconceptions that can prevent a sales team from reaching optimal performance levels. He also emphasized the role of the 80/20 rule in guiding the activities of a sales team. Whether it is wine or spirits, it is almost an ironclad rule that the top 20 percent of accounts will generate 80 percent of your profits – so if you aren't focusing on that top 20 percent, then you are leaving behind tremendous opportunities to sell more.
Looking ahead to Day 2 of the USATT, sessions in both the morning and afternoon will build on the lessons and insights of Day 1. For example, Gordon Little, Co-Founder of Little Peacock Imports, will analyze how a new brand can think beyond the launch and maintain longevity in the marketplace, while Daniel Sullivan, Wine Director at Super Buy-Rite, will offer his view on what retailers are looking for from their distributors and importers. Also, Ben Salisbury will return with additional lessons on "Modern Selling" in today's highly-competitive wine market. In addition, the more than 100 exhibitors at USATT will return for Day 2 of the event, giving participants even more opportunities to discover some innovative brands and products from around the world.
About USA Trade Tasting
The USA Trade Tasting event is committed to cultivating a better conversation among all tiers of the wine and spirits trade, connecting small and medium-sized wine, beer and spirits companies with the resources and connections to grow their business and their bottom line. The USATT is produced by Beverage Trade Network (BTN), which organizes events for the alcohol beverage trade around the world.
Show your brands to the USA's leading importers, distributors, and retail merchants, who can put your products in front of thousands of consumers. Book your exhibitor table before Feb 20 to get super early bird offer.