Expand Your Beverage Portfolio At USATT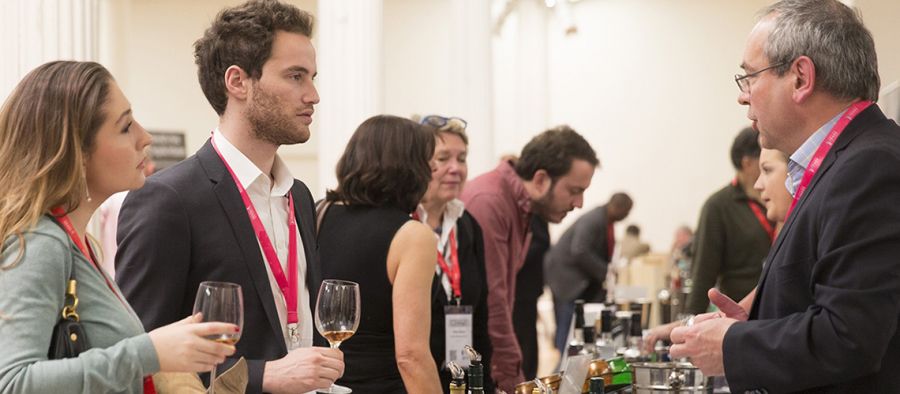 Meet and network with wine, beer, and spirits brands - and connect with other buyers and industry leaders at the 5th annual USA Trade Tasting
Finding new wines, beers, and spirits to add to your portfolio and your retail shelves can be a tough task, especially when you have to source them from different places. That's why Beverage Trade Network organizes the annual United States Trade Tasting (USATT) event in New York.
The United States Trade Tasting event is one of the largest events of its kind in the nation. Within the Metropolitan Pavilion of New York City, buyers and sellers meet to discuss new partnerships and new deals. Domestic and international brewers, distillers and wineries showcase their newest and most innovative products to importers and distributors, who are looking for new products they can bring to the U.S. market.
There is plenty of business activity that goes on right on the exhibition floor, making the USATT event the premier event of its kind for getting your alcohol beverage products in front of potential buyers. The highlight of the entire show is the Grand Tasting Hall, where more than a hundred exhibitors set up demo booths and conduct live tastings for potential buyers.
If you're looking for new wines to add to your portfolio or to your retail shelves, then USA Trade Tasting is the perfect place for you. One location, two days, and a plethora of wines, beers, and spirits to taste.
USATT offers importers, distributors, and retailers the perfect spot to single out new wines, beers, and spirits to fill the gap in their portfolio. Meet with producers and suppliers from across the globe, all in one place, whose wines, beers, and spirits could be the next addition to your list.
You will be able to taste, network with, and crack deals right there and then at the USATT Grand Tasting in New York.
Taste wines, beers, and spirits for your list, retail racks, and portfolio only at 2020 USA Trade Tasting in New York. (26-27 May)
USATT set to display SCA winners
Winning bottles from the 2019 Sommelier's Choice Awards will be showcased at the 5th edition of USA Trade Tasting (USATT), which takes place annually in New York.
Wines entered in the 2019 Sommeliers Choice Awards were tasted and assessed by over twenty wine industry professionals. The judging panel of the Sommeliers Choice Awards consisted entirely of top sommeliers, wine directors and on-premise buyers at U.S. restaurants, bars, pubs, and clubs.
Inviting all Wine Directors and Sommeliers to taste the award-winning wines that will make great additions to your wine lists.
What is SCA?
Sommeliers Choice Awards is the ultimate wine competition which aims to provide on-premise buyers and sommeliers a valuable benchmark for understanding which wines would make a compelling addition to a wine list.
An all-star judging panel consisting of leading sommeliers, on-premise wine buyers, wine directors at the U.S. restaurants, bars, pubs, and clubs gather in San Francisco to judge wines coming from across the globe. Wines are judged on the basis of Food Parability, Typicity, Value, Quality, and Package.
Medals are awarded to those wines that meet very specific judging criteria, with a goal of identifying wines that should become additions to restaurant wine lists.
So if you're searching for a perfect wine to add to your list, then an SCA winner is the one to go with. Wine industry professionals have singled out these wines as their best pick for on-premise establishments and retail stores. A plethora of wines to taste, just in one place.
What is USATT?
USATT is an annual trade show that brings together small and medium-sized importers, distributors, retailers and press professionals of the US wine, spirits and beer industry in New York City for 2 days of learning, buying and selling, networking and fun — all designed to help all alco-Bev professionals and brands to grow their bottom line.
It is one of the largest industry meeting and networking opportunities for professionals of viticulture, production, and trade. For importers, distributors, and retailers, USATT is the perfect platform to network with and taste wine, spirits, and beers from around the world to add to your portfolio and shelves.
About the organizers
Beverage Trade Network is a leading platform helping beverage professionals connect with peers and better understand the global business landscape will lead to overall long term growth of the independent alcohol beverage industry. Along with Sommelier's Choice Awards, BTN has also organized other successful competitions such as the London Wine Competition, London Spirits Competition, London Beer Competition, China Wine Competition, and Bartender's Spirits Awards. BTN also owns BevRoute, a magazine for Importers and Distributors and runs a lineup of trade shows around the world which includes USA Trade Tasting in New York, IBWSS UK in London and IBWSS China in Shanghai, IBWSS USA in San Francisco, Cannabis Drinks Expo and are also the organizers of the upcoming Cannabis Food Show.