Why Should You Invest In South American Wines?
21/07/2022
The demand and popularity of South American wines are on the rise. Read to know what makes them an ideal choice for wine enthusiasts.
South American winemakers have been making wine since the beginning of the 16th century. By the late 19th century, South America emerged as an exceptional producer of wine when the regional varieties of Malbec, Cabernet Sauvignon, and Carmenere captured the world's attention. Today the South American wine industry is booming, and their wines are readily available in the US and Europe.
Chile is the sixth biggest wine-producing country, followed by Argentina. Both countries recorded a total wine production of 13.4 million hectoliters and 12.5 million hectoliters, respectively, in 2021. Chile was also ranked as the fifth largest exporter of wine, with 5.4% of total global wine exports (Source).
Let's find out what makes South American wine unique, why are they doing well, and why are consumers investing and buying wines from this region.
The South American wine-producing countries of Chile and Argentina sit on either side of the snow-capped Andes Mountains. They have a unique terroir that hugely impacts the style and quality of the wines. These high-altitude wine regions with low temperatures, heavy rainfall, strong winds, and mountain fog favor the production of fresher, vibrant, and flavorful wines.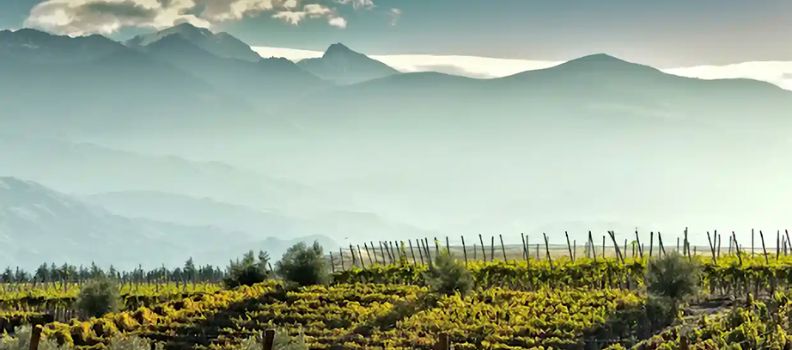 Image Source: the guardian
The grapes are exposed to intense sunlight during the daytime, which thickens the grapes' skin making the wines full of flavors with a strong tannin character. The low temperature during chilly nights slows down the ripening process of the grapes. Together, these factors help to develop intense flavor, prevent the loss of acidity, and give an aromatic character to the wine.
Along with these regions, some vineyards have a warm, dry climate, favoring the production of riper and fruitier wines with less acidity and rounded tannins. The wine regions have a mix of alluvial, sand, and rock soils, providing excellent drainage. It encourages the vine roots to grow deeper into the soil to find water and nutrients. As a result, the vines produce grapes with a higher flavor concentration.
Concurrently, the South American wine industry is home to a fantastic range and breadth of quality wines, with 165 different grapes growing in Argentina, 117 in Brazil, 65 in Uruguay, and over 60 in Chile. The region is witnessing an increase in the number of small wine growers and producers who focus extra on the quality of the vines. Wineries can be seen experimenting with harvest times to avoid over-ripeness.
An emphasis on growing new grape varieties, pushing into innovative viticultural practices, and the additional refinement of the traditional measures can be widely seen throughout the continent. Countries like Brazil and Uruguay make excellent examples of emerging wine regions. Together these countries are bringing the entire South American wine industry under the focus of importers, buyers, and wine enthusiasts as a valuable investment, all around the world.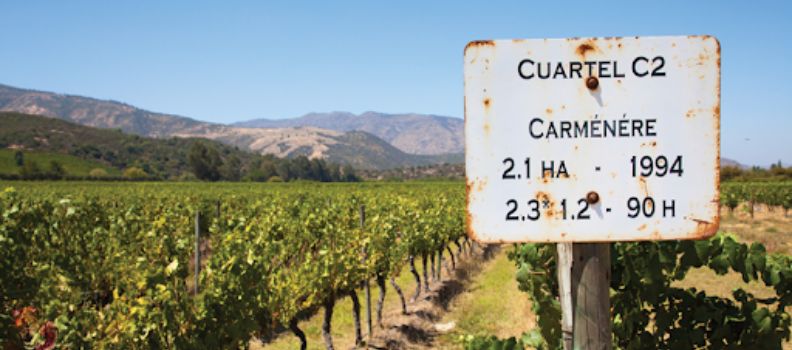 Image Source: winemakermag
South American wines have also become a top choice for most wine connoisseurs and sommeliers. According to wine experts, one of the most common reasons for customers' increased sales and purchase of South American wines at restaurants and bars is their low costs and affordable price range.
According to a survey, the average selling price of South American wine on a restaurant list was $49, and the average by-the-glass selling price was $9. Most experts reported that Argentinian Malbec was their top-selling South American wine. At the same time, some said Chilean Carmenère, Cabernet Sauvignon, Chardonnay, and Uruguayan Tannat have also emerged as high-selling wines from the region.
Here are 6 South American wines that you must explore:
- Bodega Trapiche, Costa & Pampa Chardonnay, Chapadmalal, 2020
- Kaiken, Ultra Malbec, Uco Valley, Argentina, 2019
- Catena, Malbec, Mendoza, Argentina, 2018
- Tesco, Finest Carmenère, Peumo, Cachapoal Valley, Chile 2018
- Errazuriz, Aconcagua Costa Sauvignon Blanc, 2020
- Cono Sur, Organic Chardonnay, San Antonio, Chile, 2019
[[relatedPurchasesItems-34]]
In recent years many South American wineries and vineyards have also achieved eco-friendly wine certifications. The number of organic wine certifications awarded in Argentina has grown by 50%, reaching more than 160 vineyards and 75 wineries (Source: wineindustryadvisor).
The increase in demand for certified organic wine in the US, Europe, and Japan has driven South American large and small wineries to adopt organic, biodynamic, and eco-friendly viticultural practices. It has marked a progressive growth of sales for the South American winemakers.
The South American wine industry benefits from a rich combination of winemaking history dating back to the 16th century and the liberating freedom of being a new world wine region. It is a very inclusive industry regarding growth, organization, innovation, and sustainability.
It is an expanding industry that holds opportunities for a diverse range of investors and trends for the future. The unique terroir-driven expressions of these wine regions exhibit the potential for stylistic varieties that are not just a great value for money but are also of premium quality.
Header Image Source: thediscoverer.com
Article by Aanchal Sharma, Beverage Trade Network