Why Every Wine & Spirits Company Should Invest in a Training Manager
05/07/2022
In conversation with the Training Manager of Deutsch Family Wine & Spirits, Jason Steffens shares his journey in making Deutsch Family Wine & Spirits the Top Workplaces in the USA for two consecutive years.
Owning a series of restaurants in Illinois for 10 years, Jason was also a radio personality, known as The Wine Guy and has played many roles throughout his professional journey. Currently serving as a Training Manager at Deutsch Family Wine and Spirits, he works with state and regional leaders to train the employees and works closely with the sales team to help them excel in their roles. Working in sales and management positions for more than 15 years, Jason knows how to build a team and enhance the growth of employees, he has worked with multiple people in different states on developing training sessions and engaging the team. Jason is a learner and holds a Wine & Spirits Education Level 3 Certification, Certified Specialist of Beer and is also a Certified DDI Trainer. For a better reach with his team, Jason conducts virtual meetings for training and also structures the training modules for the employees. Jason is a dynamic leader who believes in persistent learning and brings passion and energy to the company. Read to know about what it takes to become a training manager.
Tell us about yourself, your journey with wines and how you started your journey with Deutsch Family Wine & Spirits.
Wine has been a passion for me since my early 20's. A fine bottle captures a true sense of place and affordable luxury that very few other interests can. Food and wine perfectly paired rouse the spirit, unleash creativity, and firmly cement experiences within our memory. It was this drive that ultimately led me to open a series of restaurant concepts, that embraced cuisine, fine wine, and a true sense of adventure. This path was further supported by my certification through the Society of Wine Educators and the Wine & Spirits Education Trust. After the successful operation of our three concepts in central Illinois for many years, and the birth of our daughter, Abigail, in 2002, I decided it was time to exit the restaurant business in search of more life balance. Shortly thereafter, I began to sell off the restaurants and entered the wholesale total beverage alcohol segment with Johnson Brothers Liquor company in 2003, selling on-premise and fine wine accounts off premise. Over the next eight years, consolidation on the distributor side became aggressive and I moved up through the organizational structure as distributors merged and/or were acquired in the Midwest Region. I held distributor-based roles such as District Manager, Key Account Manager, Luxury Brand Specialist, and Director, ultimately moving into the role of Director of Learning and Development in 2011 with Wirtz Beverage Group, based out of Chicago. I truly enjoyed finding my stride in working to build authentic relationships with our sales and management team members, diligently helping them to master core sales and leadership capabilities. In 2019, I was introduced to an opportunity within Deutsch Family Wine & Spirits to make the transition to the supplier side, as their Training Manager for the Eastern half of the US, and I jumped at the chance. DFWS is growing leaps and bounds, the brands are outstanding, the culture is strong and the people are top-notch. I couldn't be happier!
[[relatedPurchasesItems-34]]
What is your role as a Training manager and what are the challenges you face?
As the Training Manager supporting the Eastern half of the United States, there can be many challenges to face and overcome. Even in non-pandemic periods, the best organizations face challenges with hiring talent, onboarding, employee development, performance management, and retaining high performers. Now, post-pandemic there are even more challenges, especially looking at increased and unexpected turnover as a direct effect of the "Great Resignation". Never has employee engagement been such an intense area of focus. At Deutsch Family Wine & Spirits we take employee engagement extremely seriously and proactively work to build a culture of inclusion and support that attracts, effectively trains, and retains D-1 talent. We want to attract and retain the very best in the industry, which means we must be the best in the way we launch and build our brands, develop and support our people and drive execution to meet our organizational goals.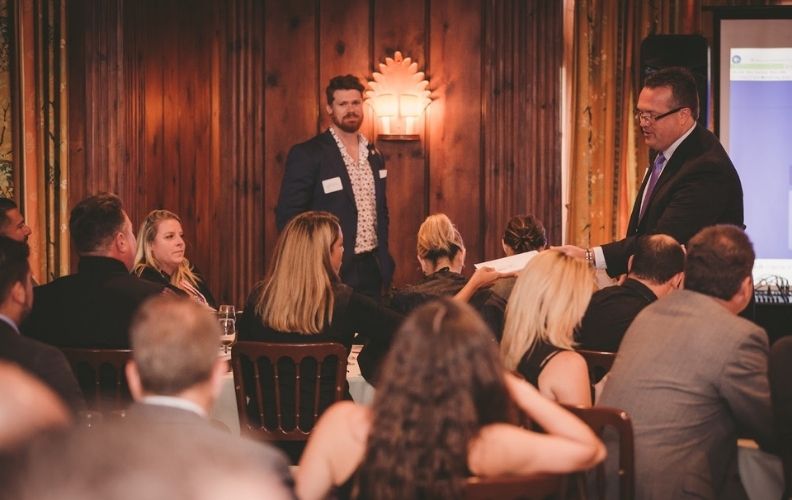 Tell us how your typical day looks like
In our current environment, virtual meetings have become my best friend, and they allow the maximization of our training and development initiatives. I can now lead a distributor training on Business Math in Georgia in the morning and meet with key organizational leaders in the afternoon, helping them master coaching capabilities to drive team development. Much of what I do daily is planning, tracking, recapping, developing virtual and live content, onboarding new team members and exploring industry research. Another major focus of my day is building individual role-specific competencies. At Deutsch, each employee is challenged to craft a yearly Individual Development Plan that focuses on 2-3 areas of individual development. These opportunities are supported through on-the-job learning (70%), learning from others(20%) as well as, external resources(10%). This allows for proactive concentrated effort and ongoing stewardship through 1:1 capability sessions, whether they be virtual or live. Additionally, my team and I travel to work with our people who live in-market across the United States, building these key sales and leadership capabilities in conjunction with their leadership.
What sort of self-learning do you do for yourself and what are the skills required for becoming a training manager?
Ongoing, persistent, and enthusiastic learning is crucial to succeeding in Training & Development. The books you read, the podcasts you watch, the seminars you attend, and the quality of the people you surround yourself with all bleed into your training delivery and facilitation. I hold a degree in Organizational Leadership and am a DDI Certified Trainer, but there are some fantastic industry associations that provide incredible resources for those who aspire to get into training and development. One such association would be the Association for Talent Development(ATD), which offers stand-alone skills-based sessions and certifications that are some of the very best opportunities for growth. In 2021, I attended one of ATD's multi-day seminars around the "COACH Model" for delivering long-lasting behavioural change and found it massively impactful. LinkedIn Learning is also a fantastic resource for filling out needed skillsets and identifying new unique approaches for driving development in adult learners. Challenge yourself each year to attain a new certification or complete a seminar externally, honing your skills. If someone is looking to become a Training & Development Manager the key skillsets to master would include: Virtual and Live Presentation Skills, Coaching and Influencing Others, Strategic Planning, Negotiation Skills, Category Business Acumen, Project Management, and Executive Presence.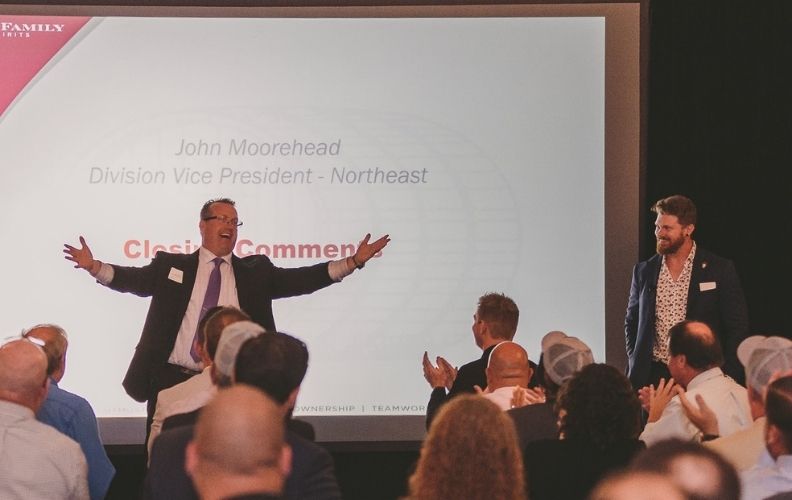 Tell us about your recent achievements at Deutsch Family Wine & Spirits and tell us some of the success stories that you are proud of as a training manager.
Deutsch Family Wine & Spirits is leading the market with our top brands (Josh, [yellow tail], Layer Cake, Redemption, Gray Whale Gin, etc.), gaining market share, every week. One of the major reasons that we are stronger coming out of the pandemic than ever before is agility. Our team's ability to move forward in the face of adversity and ambiguity, to focus, prioritize and be truly nimble, separate them from the rest of the industry. Many suppliers are facing increasingly challenging headwinds due to inflation, supply constraints, and slower category growth but at Deutsch, our future has never been brighter. The people and culture of Deutsch, make all the difference. Training and development are crucial ingredients in embedding a true culture of learning. It begins with comprehensive onboarding (eLearning, Virtual and Live), continued active opportunities for development dedicated to creating "pro's in place" and next-level training elements helping high performing/ high potential team members prepare for their next role. This helps us instill a mindset of individual continuing growth for all of our team members. When the pandemic hit in March 2020, our Sales Capabilities team moved quickly to convert all our live training to virtual offerings within one week. We successfully implemented a dynamic platform change and offered a complete synchronous and asynchronous virtual curriculum with easy-to-use registration and tracking elements that set us up for unprecedented success, amid the pandemic and even now. Another example would be when travel halted and our creation of a mandatory training platform around "Delivering Effective Virtual Presentations" which was cascaded throughout the organization, teaching our team members how to effectively use the features of Zoom and Teams for distributor sales meetings and key presentations. By seeing the need and acting quickly, Deutsch Family Wine & Spirits has been given top marks in our annual distributor survey versus the competition regarding our virtual presentation skills.
Your Linkedin mentioned that you work with sales as well, can you tell us about your sales and what is the target you set for them?
Mastery of core sales and leadership capabilities is the goal. From how our sales teams call on our on-premise and off-premise accounts, structure their presentations, utilize business math, collaborate with our distributors or coach their direct reports. The key aspect to consider is the path to get them to that point and encourage lasting positive behaviour change. The first crucial element is a comprehensive and multi-faceted onboarding program that sets a new hire up for success. At Deutsch, we utilize eLearning and virtual sessions over the first two weeks of hire to acclimate them to our organization, our values and behaviours, our sales and leadership capabilities, and more. We then work to bring them into our live Immersion program, hosting them at our corporate offices. Here they dive deeper into our brands, processes, organizational structure, and capabilities while interacting with our Executive Leadership and other new hires. This is key as a new hire sees leadership reinforce the messaging and elements espoused in their onboarding and the attendees form a cross-functional cohort that encourages collaboration and ongoing communication. Additionally, we work to embed key sales and leadership capabilities through market visits, one-on-one sessions, and virtual learning to drive a clear understanding of the organizations' expectations of behaviour and mastery, which are reinforced through our formalized work with the process, continued coaching, and tracking. All of these elements link to each individual's Mid-year and Year-end Performance Reviews as well as their Individual Development Plan. Simply put 1. we deliver clear expectations, 2. We observe and judge performance, 3. We consider what lies behind the performance, 4. We communicate performance opportunities, 5. We embed long-lasting behavioral change that delivers enhanced execution.
Share your experience as a radio personality and what were the topics you discussed?
That was a really enjoyable time back in the early days as a fine wine guy. I worked with a local rock station to do an ongoing segment during Friday afternoon drive time, called "Ask the Wine Guy", where I would be on air, speaking to wine varietals, regions of production, the winemaking process and tie in with upcoming holidays, local festivals, etc. We would open a bottle on the air, discuss the wine and people would call in with questions about wine, food pairing, party planning, and more. Fun times!
Congrats on being listed as Top Work Places 2022 USA, what advice would you offer to make a better and more efficient workplace?
We were delighted to be honoured as a Top Workplace in 2022. Much effort is spent across the organization towards making Deutsch Family Wine & Spirits a premier place to work. We promote and diligently live our D-1 Behaviors (Think Big, Collaborate, Deliver Big and Motivate), day in and day out, and these behaviours are our inspirational call to action for every team member. Additionally, we embrace high-quality communication and streamlined processes that reduce ambiguity and allow for nimble decision-making. This is one of our core strengths and a true catalyst in unleashing the performance of our high-quality teams. My advice to other organizations would be to hire quality people, provide opportunities for them to collaborate and grow, and reduce bureaucracy and other micro-managing behaviours that hinder their engagement.
What are you currently working on and what are your plans for the future?
I am really excited about the future of adult learning. In this post-pandemic phase, as the alcoholic beverage industry and our distributors come back online, we are embracing truly blended approaches to learning. We are working to craft a multimodality approach consisting of eLearning, both synchronous and asynchronous models, gamification, virtual instructor-led seminars, live in-person training, and even virtual reality. These are all modalities that will be key in equipping our organization for success in the changing markets ahead. I look forward to continuing to drive the Deutsch Family Wine & Spirits' strategic deployment of learning and development platforms that inspire, motivate and develop our teams.
Interviewed By Prithvi Nagpal, Editor & Sommelier, Beverage Trade Network