The Brewmaster's Guide to New York City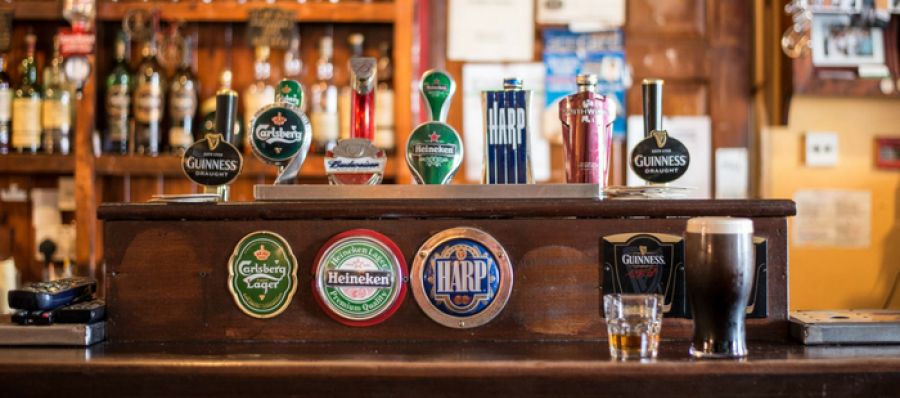 New York City is one of the greatest cities for nightlife and the city is full of beer lovers. From Upper Manhattan and into Brooklyn, you are bound to find local watering holes that cater to all types of beer connoisseurs.
USA Trade Tasting will be hosting beer representatives from around the world and we want you to get the most out of your visit to New York.
If you are a craft beer distributor, importer, or producer then chances are you'll want to explore New York, call on new accounts and gauge the consumers from a local's point of view. Heaven knows you'll have a great time learning about the market as you wander the streets and watch the New Yorkers in their habitat.
The late night music spots, upper-end brasseries, trendy brew-pubs, hidden cocktail bars, and classic sports bars - these are just a few of the thousands of types of establishments that welcome beer lovers on a nightly basis. No matter what type of accounts you target, you'll be able to find some great characters who are happy to discuss their beer lists. All exploration aside, if you'd like a bit of direction and want to know about some of the trendiest bars in New York for beer lovers, we've gone ahead and done the 'hard work' for you - we've explored the city with the intention of mapping some of the most important beer destinations in the city. Here's a list of the best bars and destinations in New York City for Beer Lovers.
Brooklyn Brewery
As one of the biggest sensations in the craft beer world to come out of New York City, the Brooklyn Breweryhas built an international brand that leverages good beer, great branding, and a full customer experience into a complete package that the world has embraced.
Visiting the brewery is a great way to explore the complex and storied history of Brooklyn and learn a bit about the people, which is something you should definitely want to do. The explosively trendy bars that have popped up in Brooklyn over the last decade make the visit to Brooklyn Brewery an easy destination to start a great afternoon of drinking and eating at some of the most exciting news spots in New York.
Video Source: The Brooklyn Brewery Youtube Channel
The Bronx Beer Hall
Offering a complete line-up of New York State craft beer, The Bronx Beer Hall is a must-see attraction for beer lovers. Offering local spins on classic New York platters from Avenue Arthur, the food compliments a wide variety of different beer styles available both on tap and from the bottle. Being located in the Bronx also gives this beer hall some great advantages as a destination.
Baseball fanatics often find there a way to the hall before (or after) heading to a Yankees game. It's also wise to check their calendar as they often have happy hours and themed nights that bring out the die-hard fans in droves. The Bronx Beer Hall is a great place to target as a key account to get your labels into.
Dirck The Norseman
Didn't get enough of Brooklyn during your first visit? That's OK - because Dirck The Norsemanis such a great venue that it warrants a trip over the bridge just for a pint. Specializing in 'industrial comfort dining,' the modern pub offers a great menu of traditional pub grub combined with European flare to bring out the best of their beer on offer.
The Greenpoint Beer and Ale Company brewpub usually has a rotating list of nine different original offerings brewed on-site. They also have an interesting selection of European labels to help those europhiles get their fix, so getting in with this bar means understanding the full spectrum of beer varieties.
The Jeffrey
'Hidden away' under the Queensboro Bridge is The Jeffrey, a high traffic, trendy espresso/growler bar that brings in all types at all hours of the day. If you are looking for a great place to sell growlers or somewhere to connect with consumers who want to explore new and exciting craft beer, then this is the place. The Jeffrey also offers tastings in their separate 'Growler Bar' and boasts a custom build draft system that keeps thirty international and craft kegs running at designated temperatures and pressures. Take a seat and stay a while. There's plenty going on to keep your palette wet at The Jeffrey, so take this time to sess out how you might find your way onto their beer list.
Rattle n Hum
One of the most well-known beer spots in New York,Rattle n Hum is located in the infamous Empire State Building and has announced that they are expanding to Times Square. The beer taps are continually revolving and there is brimming beer pride at every table. With additional options in the form of bottles, barrel tastings, and flight selections, this beer bar is the beer lover's paradise. The decor is traditional and the beer is good.
This account is a must call-on for any beer representative. Although the competition is fierce, the camaraderie and exploratory nature of the core consumer make the bar a must target for fun and loving labels.
The Blind Tiger Ale House
In the West Village lies The Blind Tiger Ale House and it's popularity definitely precedes it. One of the most popular bars for an after work drink, this bar is where the workforce sips on beer and drinks away another day's tasks and checklists. The beer list offers customers a wide variety of offerings and the clients are an experimental bunch.
Since 1995 The Blind Tiger Ale House has been a staple in the New York beer scene and has been offering an excellent selection of beer. From hyper-hoppy to smooth and suave, every beer seems to find itself a worthy partner on the food menu, so going in with a good idea of what you think your beer pairs well with is a good idea.
Skinny Dennis
Another Brooklyn gem, Skinny Dennisoffers live music, great beer and an eclectic gathering of people on almost any night. Their tagline, "Cold Beer. Hot Peanuts. Live Music," is a pretty good description of this bar that always seems to host a great time. Nothing spectacular, nothing explosive, just a great American place to wind down and take in a night with some locals looking for their next fix of music.
The bar borrows its name from the late musician by the same name who shared the stage with Guy Clarke. The atmosphere of the bar plays to the same tune and gives visitors an authentic place to drink while listening to easy listening. If this profile matches your branding, then you'll want to get your beer into this account.
Church Publick
Right in the middle of Manhattan's trendy Tribeca neighborhood is a great little find that goes by the name of Church Publick. With stunning decor and architecture running throughout all three spaces (the balcony, the dining room, and the bar), the building is the perfect location for visitors to hide themselves away for a few evening pints with friends or meet new people as crowds ebb and flow.
Their extensive menu offers all foodies a great selection of lunch and dinner options to pair with their extensive line-up of cocktails, beer, and wine. A variety of different beers are offered and the staff certainly know their stuff, so don't hesitate to ask for their opinion. Make this a target destination for your label as their door is always revolving with new customers.
Jimmy's No. 43
Proudly owned and operated by beer activist Jimmy Carbone (who co-founded the 'Good Beer Seal'), Jimmy's No. 43 bar always has a great selection of craft beer to choose from. The Gothic arches and harvest tables invite visitors to sit and drink with friends or chat with thirsty neighbors. For over 10 years this establishment has given its gathering of avid fans a remarkable resource to learn about craft beer and drink happily.
Just a ten-minute walk from Union Square and in the heart Manhattan, make it a mission to sit and have a beer with the locals and soak in the beer culture that has been nurtured in this staple beer bar of New York.
Once you understand the account's philosophy, then get yourself a meeting with Mr. Carbone because he's a market influencer worth the time and energy. Are you a craft beer importer, distributor or retailer looking to build your portfolio and develop your network of beer representatives? Register for USA Trade Tasting and source innovative brands, connect with industry leaders and grow your business.
Event Producer
Beverage Trade Network USA Trade Tasting is brought to you by Beverage Trade Network, the leading online platform dedicated to connecting the global beverage industry. Beverage Trade Network (BTN) successfully connects wineries, breweries, distilleries and brand owners with international importers, distributors, brokers and beverage industry professionals on a daily basis. Strong partnerships with international and US organizations have helped BTN establish USA Trade Tasting as a premiere sales and marketing event committed to connecting the beverage industry.
Looking to grow your brand in the US Market? Exhibit at 2020 USA Trade Tasting and meet 2000+ Importers, Distributors & Key Trade Buyers at one place. Early Bird Pricing ends December 24, 2019. Register your interest.
.