Penetration Is The Key To Distribution: Here's How To Do It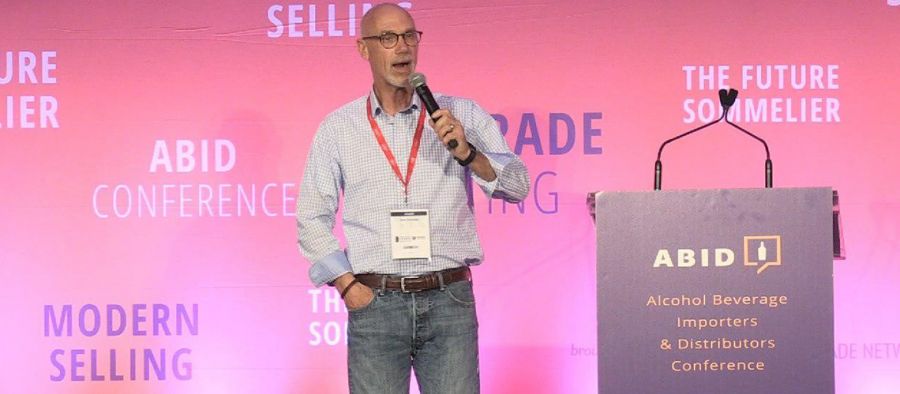 Hear from Bob Trimble on how penetration is the key to distribution in the US alcohol market.
The US marketplace for alcohol is undoubtedly one of the busiest marketplaces in the world, and everyone is always looking to get into the US alco-bev market - and every year it gets more difficult to get into it.
At one of Beverage Trade Network's 2019 Conferences, Bob Trimble - Proprietor at La Lumiere Selections took the stage, sharing his knowledge and experience in the industry, and spoke about how to penetration is the key to distribution in the US alcohol market.
According to Trimble's expertise and the current state of the market, years back, the supplier/brand used to control the business. However, now the entire market is in the hands of the distributor.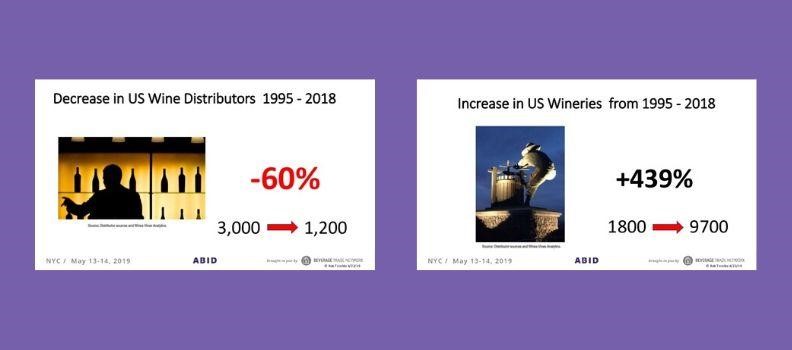 Taking a look at the statistics presented by Trimble, you can see that there has been a 60% decrease in the number of distributors across the United States from 1995 - 2018. Meanwhile, the number of US wineries has had a 493% increase, and keep in mind that these are only US wineries. With other countries also wanting to enter into the US alcohol market, and distributors increasing, imagine how hard it is to drill a hole and get into the marketplace.
Pushing into the US market can be a tough call, but luckily, Bob Trimble helped us out with all we need to know. There are two main key points to begin with:
Finding the right distributor

Help the distributor sell your product
​Finding The Right Distributor
As mentioned, the distributor now runs the entire game, so it's very important to find the right distributor for your wine. "Consolidation in the distribution market is crazy, so finding a distributor is hard," says Trimble.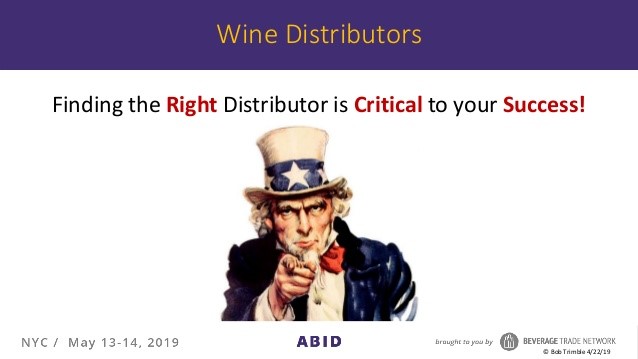 In simpler words, finding the perfect distributor for your wine, someone who will be interested in your wine as much as you are, and will give it the same amount of passion and attention is a tough task to do.
Before picking the right distributor for your wine, make sure you do all your homework.
Like Trimble said,
"If you're going to invest in being in the US market, you need to do it the right way and all of that takes a lot of work"
Here's a checklist you can follow.
Do your research
Find out about the distributor's salespeople and sales managers, do people know them? Check out the distributor's social media, look at their website, ask the top account in the market about the distributor. You can also meet with them at their office and have a personal meeting. When you enter their office how is the vibe like? Are they organised? Do they entertain? Little things like this can tell you a lot about a distributor.
Are you a good fit for their sale book?
You don't want to end up with a distributor who sells only to retail chains, when you want to get into the high-end restaurant market, or vice versa. So it's important to find out the types of products in their portfolio and figure out if your product would be able to find its place in their books.
Are they paying their bills?
You need to know if the distributor is able to handle their finances properly. Are they paying the wineries and suppliers on time? Are they collecting cheques on time? You don't want to be involved with a distributor who doesn't pay their suppliers on time - otherwise, your money is going to end up getting stuck.
Do they have a market presence?
You need to find out if people know who the distributor is, and how their distribution methods are. Talk to people around the market and see if they know the distributor. Is their reputation good? Are they known for what they do? Do restaurants, retail chains, and other places know them? Most importantly, find out where they distribute and ask around about them.
Do market influencers know who they are?
In this day and age, it's very important for market influencers to know brands, importers, and distributors. The market runs on the basis of what these influencers think and how their perception is about a certain product, company, or person. If a market influencer doesn't have any idea about who the distributor is, then you know that isn't the right distributor for your wine.
Help The Distributor Sell Your Product
Distributors don't want to sell your wine, they want you to sell your wine - and let's be honest, who is better than yourself in selling your own wine?
All distributors and sales reps want a supplier who can make their job easier for them. The best way to do this is to help the distributor sell your product. And let's be honest, who is a better face for your brand than yourself? You know everything about it, you know more than anyone else does, so why not offer a helping hand to your distributor.
Bi-annual or quarterly market visits
Your distributor needs to know that you're involved in the entire process. You can't expect to just hand over your wines and expect the distributor to throw them in the market. Hold sales meetings, trade tastings, and work-withs. Network with your distributor, network with the retailers, restaurants, and other accounts that your wines are going to.
"The market is changing rapidly. Stuff that took 10 years to change, are changing in 5, and things that took 5 years, might change in a year or year and a half, so you need to keep up with the distributor and the market" says Trimble.
Connect with new accounts and tell them about your story and about your distributor. This makes the distributor's job much easier and they will be happy to work with you - therefore, a good way to penetrate into the US market, making distribution a breeze.
Deliver top-notch marketing materials
Your marketing material is what speaks to the distributor, and to the end consumer as well.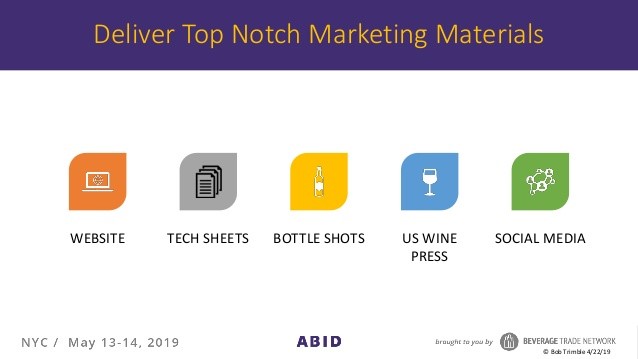 Make sure your website is up to date.
Your website is the first impression that you create on people, and first impressions stick. In this day and age, when you hear about the product, what's the first thing you do? You google them. So a website is very important. Make sure your website is attractive, up to date, memorable, well organised, and easy to navigate.
"So if you're not putting your best foot forward with your website and things, it's going to be trouble" explains Trimble.
Tech sheets are also very important.
The key is to keep your tech sheet short and concise. So a one-pager tech sheet, that tells your story, has all the must-know information, has your key sales points, wine press, and bottle shots. It's also important to make sure your tech sheet is accessible on smartphones because these days most people are using their phones for everything.
Wine press is as important as anything else.
Buyers like to be sure of what they are putting their money in, and if your wine brand has a good amount of press - then they will be able to trust your wine without even tasting it. So make sure that you reach out to magazines, websites, blogs, to create a buzz around your wine and brand.
Social Media
It's the age of social media like we're sure you probably already know. It's important to have a marketing plan for your social media. Tell your story through your social media. Millennials want to see real people, so make sure you're sharing your story and be authentic. Relate to the audience by sharing a laugh, adding humor to your posts, and use variety. Have different types of posts and different types of campaigns to show to the audience which will keep them engaged. Give people behind the scenes content. People like to see and know what's happening behind the curtains - so give them that.
Build a brand ambassador inside the distributor
Remember that you can't be there all the time, so you need a brand ambassador who is going to be talking about your product and selling it. Your brand ambassador can be a salesperson, they can be someone from a restaurant as a waiter or sommelier - just someone who knows and likes your product and is always talking about it.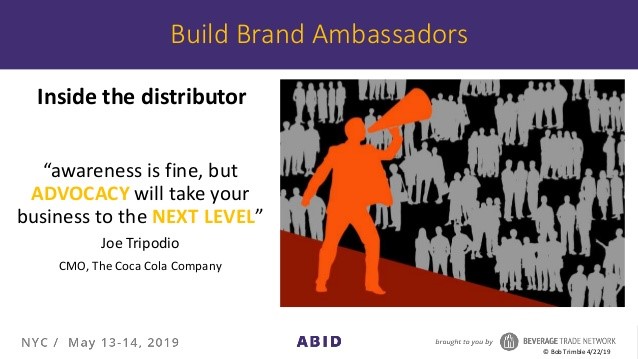 Building your brand ambassadors is a little bit tough, but doing it right and having a brand ambassador for life makes it worthwhile.
"I'll give you an example, I used to work for Seagram Chateau & Estates. We used to sell Sandeman Ports and Sherries, and well Sandeman got sold in 2000, so it's almost 20 years later, but I'm still talking about Sandeman, I'm still seeing those guys, because I'm still a brand ambassador" shared Trimble.
Tips on building your brand ambassadors
Yes, this might be expensive, but it's a worthy investment. There's no better way to show your brand story other than a trip.
Social media recognition.
Shouting out your brand ambassador on social media will make them feel special, and will give them a sense of credibility. This will make them want to work with you even more and they will pass it around, and you will build new connections as well.
Sample your wines, send them to your brand ambassadors for tasting and testing along with their platforms.
A good story sucks anyone in. So make sure you tell your story and make sure your brand ambassador can find a relatable point to it.
This is simply giving them something that makes them relate to your brand. It could be a hat, a t-shirt, or one of those mugs to keep coffee hot. Every day when they're using the mug, or the hat, they see your logo and that gets drilled into their heads.
Watch Bob Trimble take the stage at the 2019 ABID Conference
Want to know what your distributor is thinking?
Click here to find know more about The Psyche Of A Distributor