How Top Wineries Drive Sales with their Product Detail Page
01/07/2022
Increase your Online wine sales with a good product page just like St. Supéry Estate, Trefthen, Hoosegg, and Ehlers Estate!
Any e-commerce website's product detail page serves as the last stop before a customer adds an item to their shopping cart. This page immensely depends on how effectively a website converts visitors into customers. Here we will see how a product page can assist a customer in making an informed selection.
This is a simplified version of the wine product pages from the viewpoint of the wine industry by addressing aspects like the Call To Action, Online Reviews, Photography, Pricing, and Product Descriptions. When guests visit your winery they have the advantage of exploring it with all their senses. They can see the architecture of the winery, sample the wines, and even listen to the sommeliers explaining every vintage. The objective of an online product page is to offer all these experiences but digitally.
Today tasting rooms are a huge contributor to increasing wine sales but you also have a website that can help in driving your sales. A product page can be improved in various ways to increase sales.
Here are some of the ways through which you can enhance your winery product pages, so that you can sell your wine without shoppers tasting a single drop.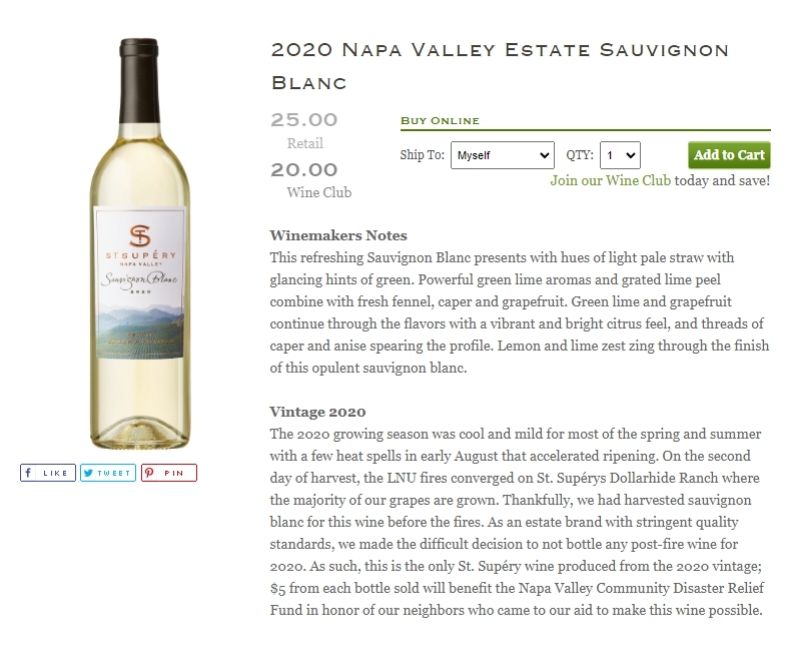 Image Source- St. Supéry Estate
1. Avoid Being Overly Flashy in Your Call to Action
A call to action (CTA) urges the customer to take some sort of action. A successful CTA develops a sense of urgency that forces a consumer to make the required action. When it comes to e-commerce, CTAs typically concentrate on enticing the customer to make a purchase.
Here is a quick summary of the basics that you need to follow to improve your CTAs.
Use clear and basic words:
Your CTAs give direction to online shoppers. It should be simple to understand. Your customer is less likely to complete that action if you confuse them. Use a buy now or add to cart CTA, which are both standard eCommerce CTAs.
Make it bold:
The CTA button needs to be noticeable on the page. Use a text size that is large and a color that is different from the background.
It must be visible:
On your wine product page, your CTA button should be visible above the fold. You risk losing conversions if your CTA button isn't immediately visible due to the additional cost of scrolling. The button should be placed next to your product image as per best practice.
You can say that St. Supéry Estate has almost perfected the CTA on their product page of 2020 Napa Valley Estate Sauvignon Blanc. You can notice the uniqueness of the CTA button due to its color and size. Customers will not get confused while purchasing a bottle of wine.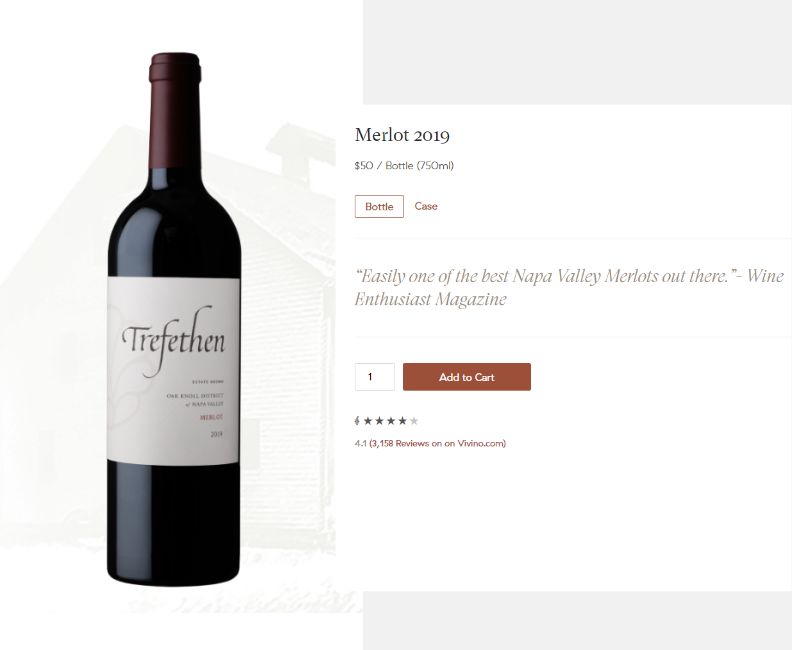 Image Source- Trefthen
2. Provide your Consumers a Voice through Online Reviews
Today consumers like to share their customer service experience compared to a few years back. As internet reviews boost a product's credibility and this is good news for online retailers. An online review demonstrates social proof that a different customer made the same transaction and was happy with the results.
Today for most people online reviews have the same level of credibility as personal recommendations. Establish the credibility of your wine product page by incorporating a place for online reviews.
Trefthen has shown best practices by listing online reviews on its product page. On the page of their Merlot 2019, they have summarized the wine rating out of 5 and the number of people who have rated the wine. The rating is located near the CTA button so that customers can see that.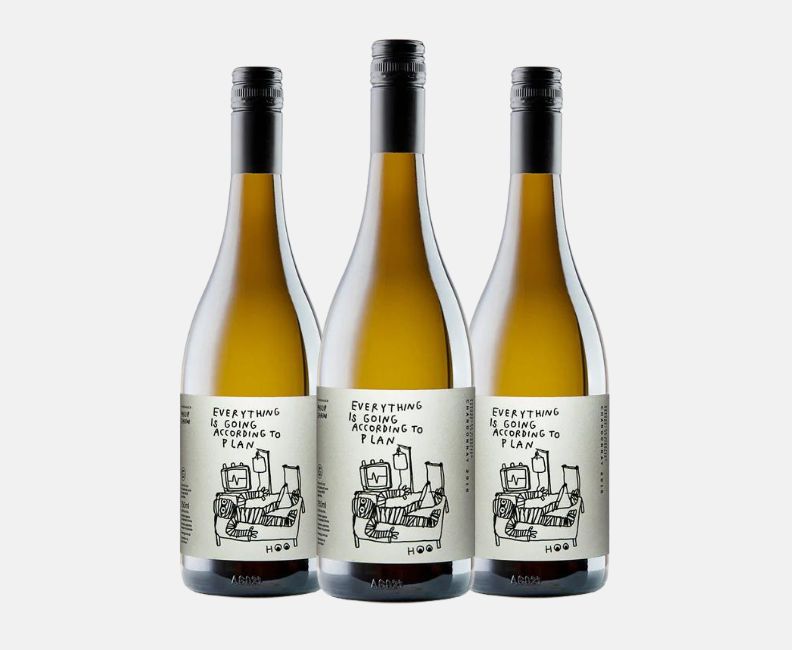 Image Source- Hoosegg
3. Innovative Product Photography
Online buyers depend on images to gain a visual impression of your product because they can't hold it or physically view it. A product page with poor-quality images gives the impression that the item is of poorer quality.
A customer can examine your wine collection and then choose a bottle off the shelf in a brick-and-mortar store. You must try to recreate this experience on your wine product pages by using high-resolution, well-lit product photographs. Your wine label must be attractive and easy to read. You can also add zoom features so that the customers can examine the product more closely. Zooming in also helps the consumer read the label on wine bottles.
Consumers are also more engaged by photographs that offer useful product information about the product than by those that are only attractive. Making the image more contextual helps the customer visualize the product as a part of their lives. Your customers want images that will help them decide whether or not to buy the wine. You can also add video visuals because they can influence online customers on their purchasing decisions. The videos will offer the viewer better information about the product, in glass and bottle both.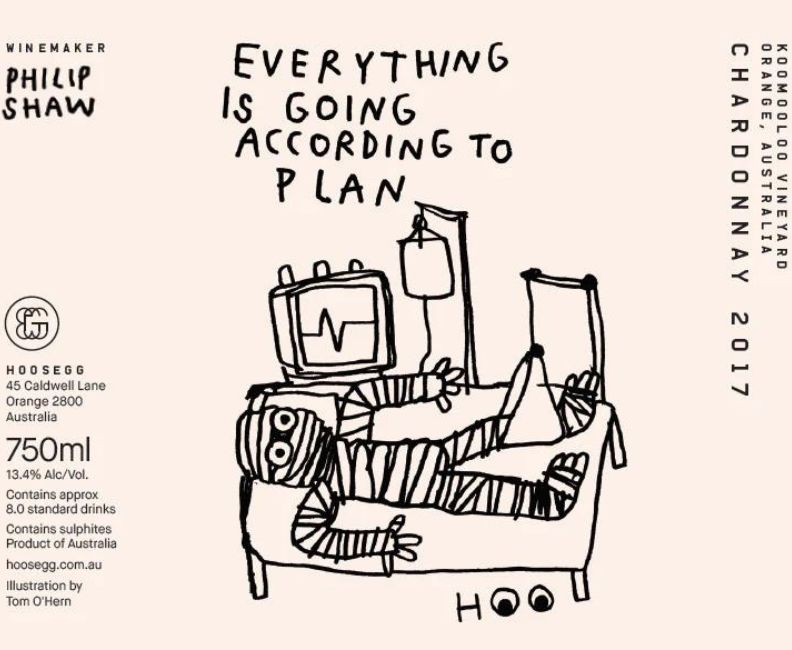 Image Source- Hoosegg
Hoosegg breaks the trend with their 2018 Everything Is Going According To Plan Chardonnay, by using product images from every angle. They also have an extremely interesting and catchy front image that will attract customers instantly and force them to look at the bottle. The back image also offers every detail about the wine for the customers.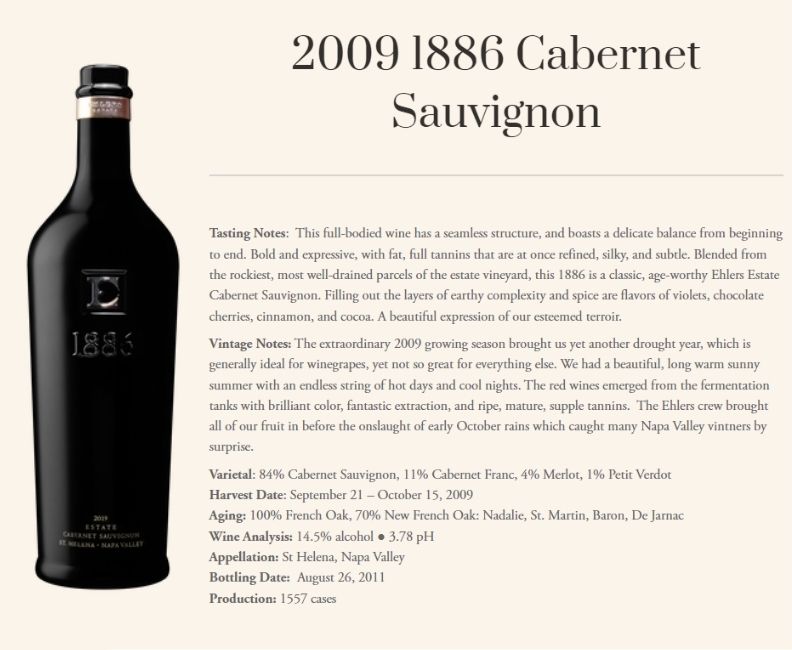 Image Source- Ehlers Estate
4. Show your Shoppers the Value of the Wine
It is common practice to list the price of the product on its product page but it is also important to justify it. By emphasizing the value of your product, you can entice customers to buy your wine. Share the product details and information that support the price.
If you look at Ehlers Estate's product page of 2009 1886 Cabernet Sauvignon they establish their history of the wine. They not only describe every step of the winemaking process but also provide the exact dates of the harvesting and bottling. Today consumers can justify a higher price point because the 2009 1886 Cabernet Sauvignon Montelena Winery explains why their wines are in high demand.
5. Writing Creative Product Descriptions
A strategically placed product description will increase the conversion rate. Your online product descriptions demand special attention because writing for the web and writing for print is not the same thing. Writing an effective product description requires two things.
By making it readable:
Readers find dense paragraphs intimidating, particularly when reading descriptions of products. The objective is to persuade customers to make a purchase as quickly as possible, which means it is important to ensure that they can read the description of the wine easily and rapidly.
By narrating a story:
Storytelling is a strong tool that can help in increasing conversions on your wine product pages. You can share the story of the wine at every stage of the winemaking process, vineyard, production, and fine notes. Don't be reluctant to tell stories from your winemaker or viticulturist in your product descriptions. And besides, who doesn't enjoy a glass of wine and a nice story?
St. Supéry Estate describes the story of the wine-making process along with its winemaker's notes and the food that you can pair with the wine. Describing how on the second day of harvest, the LNU fires converged on St. Supérys Dollarhide Ranch where the majority of their grapes are grown, will show the customers the value of the wine and make them feel more connected to it. It will offer them a vivid picture of the labor that was necessary to create the 2020 Napa Valley Estate Sauvignon Blanc. They also mention that this is the only St. Supéry wine produced from the 2020 vintage and $5 from every bottle sold will benefit the Napa Valley Community Disaster Relief Fund in honor of our neighbors who helped them to make this wine possible.
If you are interested to market your wines and want to know about the digital marketing trends for your wine brand you can check the Top 12 Digital Marketing Trends For The Wine Industry In 2022 in Sommeliers Choice Awards. You can also know more about the global wine market and its trends from the Sommeliers Choice Award, which is one of the prestigious awards for wine brands that are given by top sommeliers, on-premise wine buyers, and wine directors at U.S. restaurants, bars, pubs, and clubs.
Written By Aparna Dutta, Beverage Trade Network