9 Wineries You Must Visit While In Sonoma County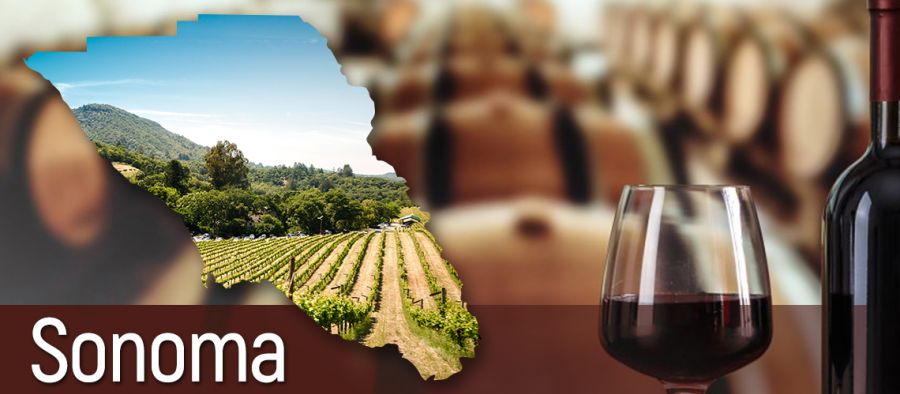 Explore your love for wine with these 9 wineries you must visit while in Sonoma County
Sonoma County is known for its beauty, vibe, and how can we forget the wine that Sonoma proudly shares with the world.
John Lasseter, former Pixar Chief described the Sonoma Wine community perfectly when he said "I love the Sonoma Wine community. It's like Pixar - nothing competitive, only supportive. They're always rooting for you"
It's practically a sin to not take a tour of the wine world while in Sonoma County - but how will you choose? Here are 9 wineries you must visit while in Sonoma County.
Radio-Coteau Winery
Radio-Coteau Winery ranks high on the wineries you must visit when in Sonoma County list. It's a small indie winery owned by Eric Sussman, a fellow oenophile. There are a wide range of wines produced at Radio-Coteau, some of which include Riesling, Pinot noir, Chardonnay, Zinfandel, and Syrah. The winery itself has a plethora of tasting events in which their wines are included. This indie winery is a must visit.
Where to find them: 2040 Barlow Ln, Sebastopol, CA 95472, USA | Instagram | Facebook
Lynmar Estate
Lynmar Estate is the spot to be at if you're both a wine and food lover. The Lynmar Estate is said to have one of the most beautiful tasting rooms across California where you can enjoy a glass of wine with a terrace overlooking the Sonoma foothills. Lynmar offers a homestead to-table lunch menu, in addition to a wine bar with a nourishment menu. "Picnic Pairings," are served from April to September—inside or out—with three diverse excursion menus, complete with a paired wine. And if you're just there to drink wine, then you can enjoy it at their sleek, wood-paneled wine bar.
Where to find them: 3909 Frei Rd, Sebastopol, CA 95472, USA | Instagram | Facebook
St.Francis Winery and Vineyards
Built up in 1978, St. Francis is a family-possessed, Certified Sustainable winery devoted to delivering home wines that feature the interesting terroir of the region. Appreciate pleasant perspectives on the encompassing vineyards and Mayacamas Mountains from the mission-style tasting room, which incorporates a ringer tower containing a 1,000 pound bronze cast chime that tolls every hour.
Where to find them: 100 Pythian Road, Santa Rosa, CA 95409, USA | Instagram | Facebook
Scribe Winery
Driving towards Scribe, along the palm tree lined driveway is just one of the many reasons it's one of the 9 wineries you must visit while in Sonoma County. For the initial years of Scribe, Andrew and Adam Mariani made wine with grapes they cultivated in Napa, yet now their very own bequest Riesling and Chardonnay vineyards are full grown enough to deliver some phenomenal bottlings—the greater part of which are sold legitimately from the winery.
Where to find them: 2100 Denmark St, Sonoma, CA 95476, USA | Instagram | Facebook
La Crema Estate at Saralee's Vineyard
If you're a Burgandian wine lover, then La Crema Estate is the place for you. Settled in the core of the Russian River Valley, La Crema Estate's memorable stable from the 1900s has been changed into a staggered tasting room commending wine, nourishment, and Sonoma County. Here, you can test the winery's outstanding pinot noir and chardonnay wines through an assortment of instructive and intelligent visitor encounters.
Where to find them: 3575 Slusser Road, Windsor, CA 95492, USA | Instagram | Facebook
Gloria Ferrer Caves & Vineyards
Set in the moving slopes of the Carneros district in southeastern Sonoma County, this winery was intended to bring out both the notable California missions and the legacy of the Catalonian family, proprietors of the Freixenet cava brand.
Gloria Ferrer is known to make some of Sonoma County's best sparkling wines - making it one of the 9 wineries you must visit while in Sonoma County. After a voyage through the caverns and sparkling wine grounds, enjoy a glass of sparkling wine by the flame or on the balcony.
Where to find them: 9285, 23555 Arnold Dr, Sonoma, CA 95476, USA | Instagram
Ram's Gate Winery
The wines and the design here at Ram's Gate Winery offer guests a solid feeling of spot. The winery, which opened in 2011, looks like the endured farmsteads that dabbed the scene 100 years prior.
Wines are made from grapes privately sourced, saturating each taste with the flavor of spot. Sustenance and wine matching alternatives are accessible, from a basic culinary expert stuffed excursion to combine superbly with the wine decision, to the 'Behind the Gate' experience that is part tasting, part cooking class/demo.
Where to find them: 28700 Arnold Dr, Sonoma, CA 95476, USA | Instagram | Facebook
Francis Ford Coppola Winery
Not only do they create charming wine, Francis Ford Coppola exhibits it, complete with Hollywood enchantment, in Alexander Valley. Film memorabilia — including the Godfather's work area, a Tucker vehicle, contents, and Oscars — charm guests.
The estate isn't only a winery, it's a hotel that incorporates a full-administration eatery, lunch room, fully stocked bar, and pool. Truly, pool; total with cabins to lease for the afternoon — make sure to hold your spot early; it tops off quick.
The Francis Ford Coppola Winery is a must visit while in Sonoma County.
Where to find them: 300 Via Archimedes, Geyserville, CA 95441, USA | Instagram | Facebook
Fort Ross Vineyard & Tasting Room
Coasting over the haze in the slopes over the slamming waves lies the nearest vineyard to the Pacific Ocean in California — Fort Ross Vineyard. It's situated in one of Sonoma County's most interesting AVAs, Fort Ross-Seaview.
The new tasting room appears as though one of the numerous memorable stables that dab the scene. Sip their Pinot Noir, Chardonnay, and Pinotage, produced using grapes developed only on the home. Bring a lunch, unwind, and take a gander at the fantastic perspectives.
Where to find them: 15725 Meyers Grade Rd, Jenner, CA 95450, USA | Instagram | Facebook