10 Distilleries to Visit In Vermont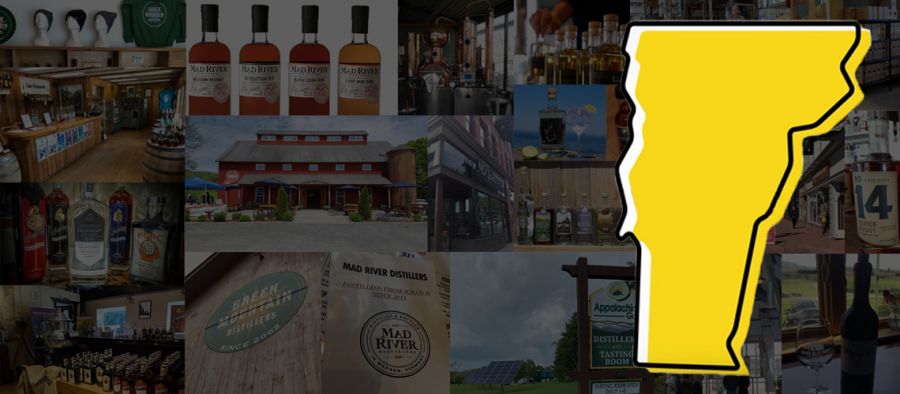 Not to miss - here are the 10 distilleries to visit when in Vermont
Pearl S. Buck once said "All in all, Vermont is a jewel state, small but precious" and she wasn't wrong. Vermont surely has its beauty to offer, and one of the many great things about Vermont is the number of distilleries and craft distilleries it is home to.
Here we take you on a trip, listing down the 10 distilleries to visit in Vermont.
Smugglers' Notch Distillery
Located in Jeffersonville, Smugglers' Notch Distillery runs on the bond of a father-son partnership. Since opening its doors to the public in 2010, SND is known for its exquisite vodka made from the finest grains and Vermont spring water amongst other spirits. 2019 brings expansion for the distillery in a larger facility across a ten-acre campus along the Lamoille River in Jeffersonville.
Appalachian Gap Distillery
Finding its place in the 10 distilleries to visit in Vermont list, the Appalachian Gap Distillery is famously known for its solar-powered distillery and their sustainable way of production.
Fun fact: The founders of Appalachian Gap Distillery started out as homebrewers. They found their calling for spirits after attending one a distilling class one weekend in Geneva, NY - and turned their passion for spirits into their business.
Mad River Distillers
Mad River Distillers is committed to making spirits that celebrate local producers and sustainable agriculture and all their spirits are distilled by hand and from scratch. All grains are sourced regionally from non-GMO sources, and they use Vermont ingredients when available. Their tasting room offers amazing tours and tastings of their spirits - making Mad River Distillers one of the 10 distilleries to visit in Vermont.
Green Mountain Distillers
Located in Morrisville, Timothy Danahy and Harold Faircloth III, the Founders and Master Distillers, have dedicated themselves to producing hand-crafted, organic distilled spirits. All organic spirits by Green Mountain Distillers are carefully crafted using the small-batch fermentation and a proprietary distillation process. The craft-distillery guarantees premium quality and exceptional taste.
Silo Distillery
Located in Windsor, Silo distillery began in 2013 with a strong vision to use Vermont's natural products to produce hand-crafted spirits for people looking for a local Vermont based option. Silo also hosts music events, farmers markets, food festivals, and other private events at their campus - making it one of the 10 distilleries to visit in Vermont.

Wild Hart Distillery
Wild Hart Distillery aims to boost daily celebrations in the Vermont way, meaning with friends, family, and anyone close to heart. Along with their production, they also offer various tasting tours which you have to book in advance. However, if luck is on your side and you find yourself wandering around Wild Hart when someone is free - then you're in for a cocktail treat.
Stonecutter Spirits
Finding its place in the 10 distilleries to visit in Vermont - Stonecutter Spirits is a woman-led craft distillery that makes gin and whiskey on the edge of the mountain in rural Vermont. Their aesthetic bottling and campus are what attract visitors to their plethora of events.
Saxtons Distillery
Saxtons Distillery is known for combining old-world heritage with the flavor of Vermont. Christian Stromberg founded the distillery after being an engineer for 15 years in steel, automotive, aircraft, and fiber optics. He followed family recipes passed down over the generations and soon built Saxtons Distillery.
---
Lost in Sonoma County? Click here to check out 9 wineries you must visit while in Sonoma County
---
Hooker Mountain Distillery
Hooker Mountain Distillery joins the 10 distilleries to visit in Vermont by being not only a distillery but a farm as well. The distillery is owned by the Randolph family, who started farming in 2008 on just 8 acres of land. Eventually, they brought spirits into the mix and turned the farm into a family-run distillery.
Old Route Two Spirits
Known as one of Vermont's newest distilleries, Old Route Two Spirits is located on the granite hills overlooking the Barre. They say that their mission is to turn the finest and natural products into delicious spirits for people to enjoy.
Whistlepig Farm
Whistlepig began in the year of 2007 when the owners purchased the farm. With help from Master Distiller Dave Pickerell, they discovered and purchased an incredible stock of 10-year-old blending Whiskey in Canada that was being profoundly misused. That initial stock is what kicked off their adventure.