A Must Try: Top 10 Canned Cocktails Brands To Try This Summer
03/03/2022
After being one of the go-to drinks during the lockdown, canned cocktails have become more popular than ever. The quality of canned cocktails has improved dramatically in recent years, and there are now more options than ever.
These bartender-quality selections range from classics, such as margaritas and vodka sodas, to reproductions of the whiskey smash and bloody mary; they're versatile and provide a convenient libation for drinkers of all preferences. The best part?
They're a simple way to sip your favorite drink at the beach, a backyard BBQ, or anywhere else you want to unwind. In addition, a current group of canned cocktails on the market are surprisingly tasty and do a fantastic job of imitating the flavor of a freshly made drink.
[[relatedPurchasesItems-34]]
Here are some of the best-canned cocktails currently available in the market for you to enjoy.
The Finnish Long Drink Company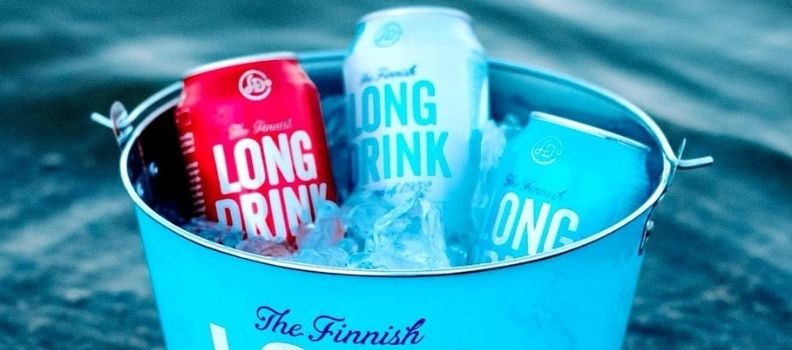 Image Source: The Long Drinks Company
Long drinks had their origins in the 1952 Summer Games in Finland when the country of only 4 million people was still recuperating from World War II. Concerned about serving drinks swiftly enough to all the visitors, the government commissioned the construction of a revolutionary new alcoholic beverage. So the first long drinks were conceived.
"Long drink" is the highest-selling category of alcohol in Finland - a classic taste that is now available in America. The Finnish Long Drink soft debuted in New York City in 2018. This Finnish company has teamed up with actor Miles Teller, who is now a co-owner of the company. The Long Drink is currently available in some of the most popular locales, and it has become one of the fastest-growing alcohol firms in the United States.
The basic recipe blends natural grapefruit and juniper berry flavors, producing an easy-drinking bottled cocktail. However, the brand also produces Zero, Cranberry, and Strong versions, with ABVs ranging from 5.0 to 8.5 percent.
Long Drink Zero is a sugar-free and keto-friendly alternative that contains the same flavors as the original. In addition, cranberry is a delectable new flavor. Long Drink Strong has the same wonderful taste as Traditional but has 55% more alcohol.
Cutwater Spirits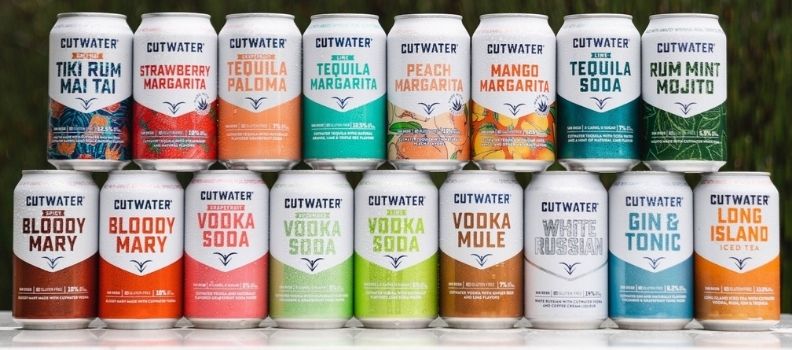 Image source: Cutwater Spirits
Yuseff Cherney, the company's founder, and master distiller began creating spirits when he custom-built his first pot still from an old beer fermenter to distill rum, vodka, gin, whiskey, and other spirits. Yuseff and his team have built Cutwater Spirits from a passion project to an award-winning craft spirits brand, thanks to their adventurous approach and a strong commitment to quality. With the debut of Cutwater's canned classic drinks, he quickly established a category.
Cutwater Spirits are the best overall in the canned cocktail category due to the high quality and diverse selection of drinks it produces, which includes tequila and whiskey-based cocktails, as well as a canned White Russian and Mai Tai.
The margarita is a San Diego favorite and the most popular tequila mixed beverage in America. With a strong tequila scent, vibrant lime notes, and a touch of orange in the mix.
A go-to drink is the award-winning Cutwater Vodka with house-made lime, cucumber, or grapefruit soda water for a cocktail with a hint of delicate flavor.
10 Barrel Brewing Company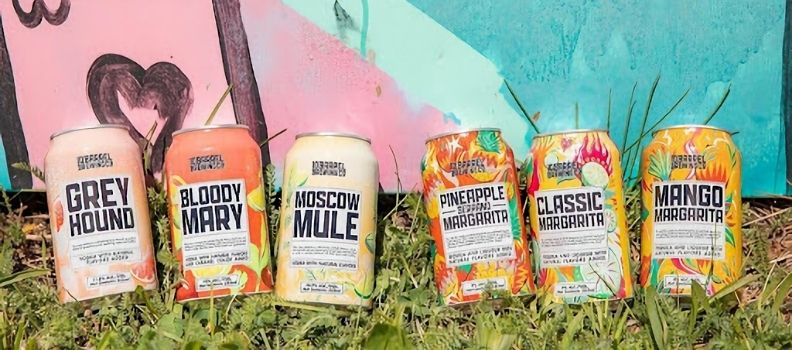 Image Source: 10 Barrel Brewing Co.
In 2006, three guys from Bend, Oregon, founded the company with a simple idea: make beer, drink beer, and have fun while doing it.
A Greyhound, a Moscow Mule, a Classic Margarita, a Mango Margarita, and a Pineapple Margarita are among the first drinks on the menu. They have an ABV of 10-11.8 percent and come in 355ml cans.
The Mule and Bloody Mary don't let you down." The recipe is a family formula from one of the brewers. Still, Tabasco and horseradish are used for a nice kick, along with celery salt and Worcestershire sauce for umami flavors.
Tip Top Proper Cocktails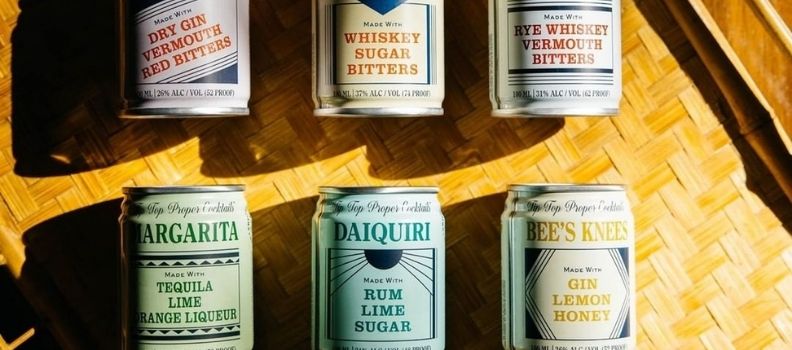 Image Source: Tip Top Proper Cocktails
Tip Top Proper Cocktails premiered in venues throughout Atlanta.
Another bartender-led initiative, Miles Macquarrie of Kimball House in Decatur, Georgia, created this canned version of the whiskey classic.
Tip Top Proper Cocktails provides the bar classics - the Negroni, Manhattan, and Old Fashioned – to almost any location you'd want to enjoy them. These small cans pack a punch, ranging from 26 to 37 percent ABV. Tip Top's old-fashioned is a genuine interpretation guaranteed to please traditionalists looking for a punch of orange bitters and bourbon.
Two Chicks Cocktails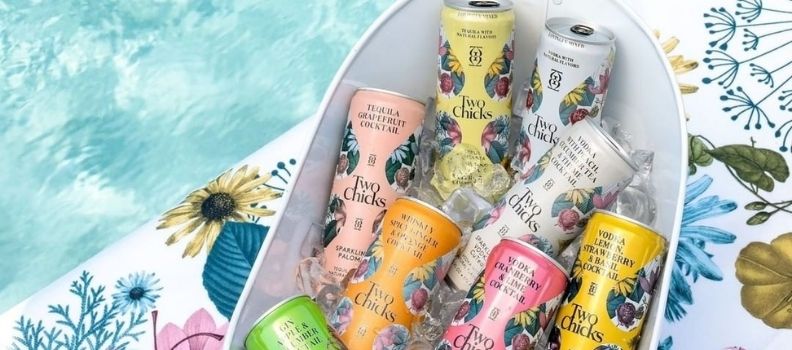 Image source: Two Chicks Cocktails
Meghan Hanna and Linda Cash established TWO CHICKS COCKTAILS, a canned cocktail line. Women own and run the company, creating sparkling canned cocktails from quality spirits, fruit, and botanicals. Sparkling Citrus Margarita, Sparkling Vodka Fizz, Sparkling Paloma, Sparkling Vodka Cutea, Sparkling New Fashioned, and Sparkling Apple Gimlet are among the cocktails available.
Sparkling Paloma, a tequila Blanco-based cocktail with acidic pink grapefruit, was created. Tropical weddings will look great with the pink and green botanical label.
Cardinal Spirits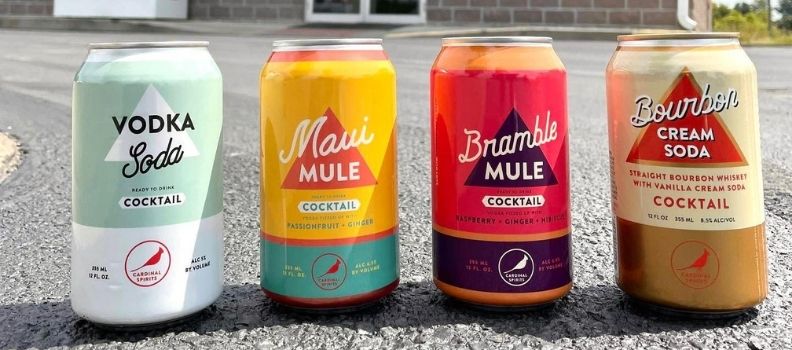 Image source: Cardinal Spirits
Cardinal Spirits in Indiana offers four ready-to-drink canned cocktails created with premium spirits and natural fruit juices. Their Bourbon Cream Soda is prepared with Straight Bourbon Whiskey, vanilla beans, and cream soda, while their Vodka Soda is smooth vodka combined with bubbly soda (and only 95 calories with 0g sugar!). The Bramble Mule is a fruity spin on the classic Mule drink, made with vodka, raspberry juice, ginger, and hibiscus, while the Maui Mule is a tropical take on the Moscow Mule, made with vodka, passion fruit juice, and ginger.
Their bourbon cream soda is a must-try.
Cocktail Squad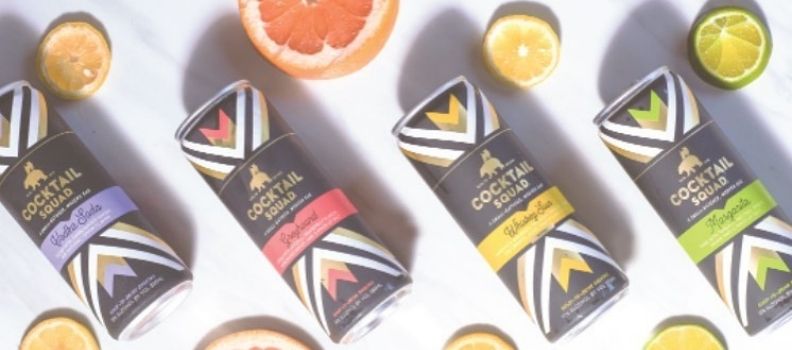 Image source: Cocktail Squad
Cocktail Squad, a line of canned premium drinks created by John and Lauren Maggio, made its debut in 2018. Gin & Tonic, Vodka Soda, Whisky Sour, Margarita, Greyhound, and Bourbon Smash are available. The majority of cans have a 10% ABV, but Cocktail Squad also has two lighter options, Whiskey Ginger and Vodka Lemon, which have a 5% ABV. Their beverages are available in Arizona, Oklahoma, Rhode Island, Massachusetts, and other states.
Fabrizia Limoncello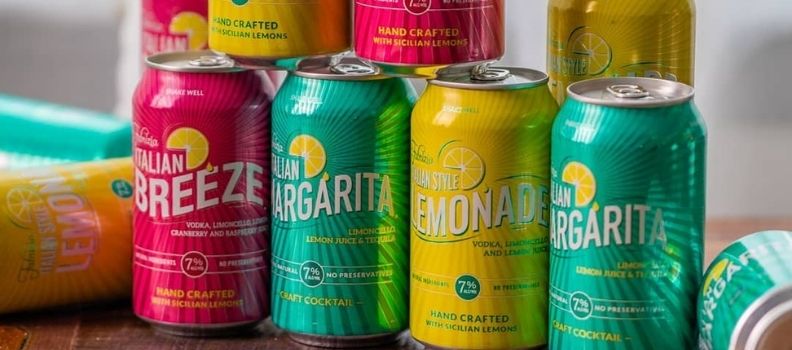 Image source: Fabrizia Limoncello
Fabrizia Spirits is a limoncello-focused firm based in New Hampshire. The company manufactures exquisite versions of the sweet lemon liqueur and employs it in two canned cocktails: margarita and lemonade, influenced by its Italian roots. While an American-made, Italian-inspired margarita may seem like a stretch, this one is remarkable.
Given that context, it's not surprising that lemons (rather than limes) are the main citrus fruit. Fabrizia's Italian Margarita contains limoncello and freshly squeezed Sicilian lemon juice along with tequila. As a result, it's neither carbonated nor very powerful (7 percent ABV), and it's the perfect blend of sweet and tangy, making it a delightful summer drink.
Social Hour Cocktails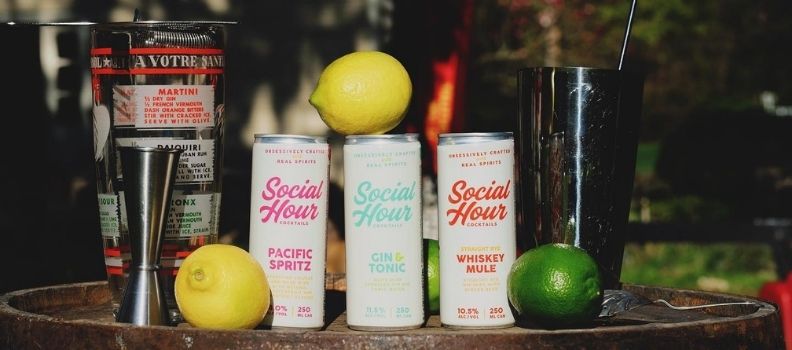 Image Source: Social Hour Cocktails
Social Hour Cocktails is the brainchild of award-winning Clover Club bartenders Tom Macy and Julie Reiner, based in New York City. Macy toyed with the idea of starting an RTD cocktail brand for years before committing to the endeavor seriously in 2018. The line includes three cocktails in cans: a gin-and-tonic, a whiskey mule, and a pacific spritz, all made with American-produced liquors and ingredients.
Gin and Tonic, Whiskey Mule, and Pacific Spritz were the first flavors offered by this RTD brand.
Fling Craft Cocktails
Image Source: Fling Craft Cocktails
Boulevard Brewing Company, founded in 1989, has evolved to become the Midwest's largest specialty brewer, to produce fresh, tasty beers utilizing the finest ingredients and the best of both old and new brewing techniques.
Boulevard Brewing Co.'s canned cocktails are just as impressive as its artisan beers. Craft Cocktails from the brewery live up to the "craft" designation with well-balanced flavors made from natural ingredients and genuine distilled spirits.
The Fling portfolio encompasses the cocktail scene, including a Botanical Gin and Tonic, Mai Tai, and Margarita ranging from 5% to 9% ABV.
Its Rye Whiskey Mule and Bourbon Smash are excellent renditions of the classic cocktails. Among these, the Blood Orange Vodka Soda is a must-try. It's made with 360 Vodka and has just the right amount of blood orange flavor to keep it interesting, and the soda water adds a dazzling sparkle.
Article by Aakriti Rawat, Beverage Trade Network