Untouched by Light
08/08/2022
The world's first sparkling wine made, sold, & tasted in complete darkness.
According to Professor Emerita Ann C. Noble, the exposure of wine to daylight or artificial lighting results in what is commonly known as light-struck aromas (goût de lumière). For that reason, Radgonske Gorice made a decision to turn to the dark side and produce their sparkling wine in complete darkness with the motto: the best things happen in the dark.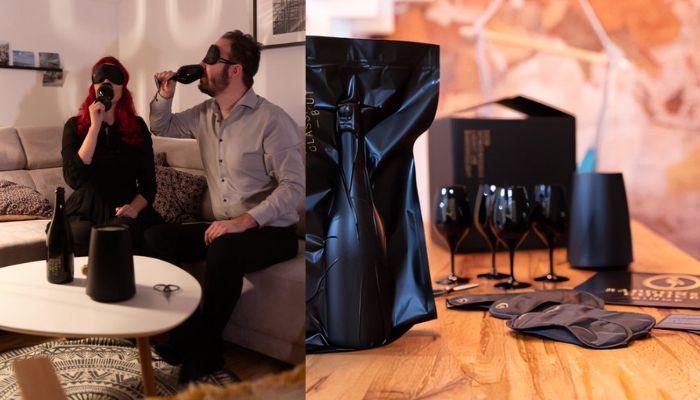 Image: Untouched By Light
What makes Untouched by Lightunique is its production process. The Untouched by Lightharvest, bottle rotation, and packing require the use of night vision goggles. The wine is left to age for two to three years in the Gornja Radgona cave in Slovenia, where it is untouched by the outside world, completely lightproof. In the jargon of Radgonske Gorice, this is known as the Crafted by Darkness method. Once out of the cave, the wine is protected in a 99% black glass bottle, packed in a vacuum-sealed bag blocking any additional light or air contact. Untouched by Light is made from the best Chardonnay grapes (Blanc de Blancs) using the inside-the-bottle fermentation method.
Image: Untouched By Light
"It is highly recommendable to taste this wine in pitch darkness in good company, because the best things happen in the dark,"BorutCvetkovič from Radgonske Gorice said.
"The color is intensely golden, and the bubbles are minuscule. The sparkling wine is rich and inviting to the nose, with developed notes of ripe yellow and white fruit such as peach, pear, and a hint of mango ... Very seductive. The first impression on the lips is complete freshness, with lively citrus notes. Then creaminess and tenderness slowly follow, accentuated by very gentle and delicate bubbles, which all contribute to the beautiful roundness of this sparkling wine. The aftertaste is long but still feels fresh with a hint of minerality. The mouth longs for the next sip!" said Pierre-Yves Bournerias, the expert from the InstitutOenologique de Champagne.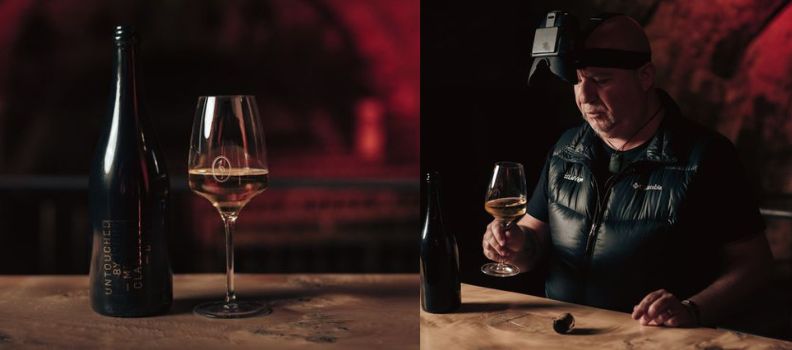 Image: Untouched By Light
The winery's oenologist KlavdijaTopolovecŠpur said: "Untouched by Light is a unique sparkling wine allowing its original terroir to fully come to the fore as it remains unaffected by light throughout its production process, distribution, and even tasting."
The very first 2016 vintage of Untouched by Lightsparkling wine came out a year ago, at once kindling global interest and selling out in a jiffy. The Untouched by Light became widely distributed from the US, all the way to Japan. These days the 2017 vintage was released, offered in a limited number of 2000 bottles available on bzconsortium.com in the US.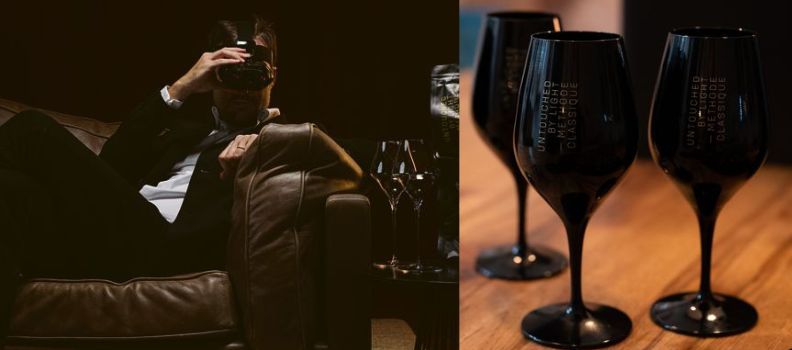 Image: Untouched By Light
The wine production in this region, today part of Slovenia, was expanded by Archduke John of Austria, a member of the House of Habsburg-Lorraine. RadgonskeGoricewinery boasts an almost 170-year-long tradition of sparkling wine production. It was inaugurated by AlojzKlenošek, its first sample maker, the wine cellars were later owned by the Swiss-French Bouvier Family, and today put on the map by Radgonskegorice as a state-of-the-art winery, Radgonske-gorice.si
[[relatedPurchasesItems-34]]
Untouched by Light characteristics:
- Vintage: 2017
- Acidity: 7.8 g/l
- Alcohol: 12.5 vol %
- Sugar: brut8.5 g/l
- Maturation on lees: 36 months
- Malolactic fermentation: is not necessary
- Disgorgement date: the beginning of 2021
Terroir and grapevine characteristics:
- Plot: Selected especially in accordance with the soil profile, wine growth, grape ripening process, and chemical parameters of must and wine
- Plantation: Older, own selection, planted on a sunny – southern side
- Ground: Eutric brown soil with limestone gravel admixture
- Year of Planting: 1989
- Grapevine Training Method: Double Guyot
- Grapevine Load: 2 kg/grapevine
For additional press information please contact:
Jelena Mihelčić, Bruketa&Žinić&Grey,
PR Manager: jelena.mihelcic@grey.com, +385 99 2117 507