United States Trade Tasting 2017 Highlights Innovative Wine, Beer and Spirits Producers From Around the World
19/05/2017

The leading wine, beer and spirits industry event in the United States featured 138 exhibitors from more than 20 countries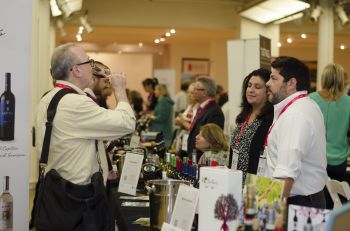 Over 1,500 participants and 138 exhibitors from 20 countries met in New York for the second annual United States Trade Tasting (USATT) event on May 16-17. The event, produced and organized by Beverage Trade Network, was held at the Metropolitan Pavilion in New York City, where exhibitors had a chance to network with importers, distributors, wholesalers and retailers looking for new products to add to their portfolios.
On the Grand Tasting floor, participants had a chance to meet new wine producers from emerging regions around the world, including:
China (Chateau Rongzi)
Portugal (Tejo region)
Australia and New Zealand
Eastern Europe (Slovenia, Croatia, Moldova, Romania)
Lebanon
There was also plenty of innovation on display within the beer and spirits categories, including:
As a way of encouraging importers and distributors to learn more about these innovative producers, this year's USATT 2017 event featured Show Deals. These are special deals for buyers, valid for the duration of the show only.
As part of the show's mission of connecting buyers and sellers, there were also many opportunities during the two-day event to learn more about wines from specific regions. Day 1 of USATT 2017 featured a master class on Chinese wines led by Chateau Rongzi. This was the first-ever public U.S. tasting of these Chinese wines.
Day 2 of the event featured a "Wines of Tejo" master class, which focused on the unique wines of the Tejo region of Portugal. Day 2 of the event concluded with a Beaujolais master class, which focused on the French wines of the Beaujolais region.
Manilay Saito of Business France, which helps French wineries expand in the U.S. market, commented on the importance of the annual USATT event, "Networking here in the U.S. is the key to success. It's a way to come and meet importers and distributors and exchange ideas and find new opportunities."
The USA Trade Tasting event, the only show of its kind in the United States, brought in importers and distributors that showed great interest in the products exhibited. In just two years, it has become the premier U.S. meeting place for wine industry professionals, including importers, distributors, wholesalers, retailers and producers.
In addition to the Grand Tasting floor, this year's event included a full two-day conference, including special Q&A sessions and educational presentations designed to help brands learn more about how to enter the U.S. marketplace. These presentations featured some of the alcoholic beverage industry's pre-eminent leaders.
About USA Trade Tasting
USA Trade Tasting (USATT) is an annual trade-only event in New York City helping wine, beer and spirits producers connect with importers, distributors, retailers and press in the USA. The event made its debut in 2016.
About Beverage Trade Network
Beverage Trade Network (BTN) connects wineries, breweries, distilleries and brand owners with importers, distributors, brokers and beverage industry professionals all over the world. BTN now has over 14,000 members.
Contact: Malvika Patel
Email: malvika@usatradetasting.com
Phone: +1 855 481 1112